Ariana Grande Will Have Voter Registration Booths At All Her US Concerts
by Christina Marfice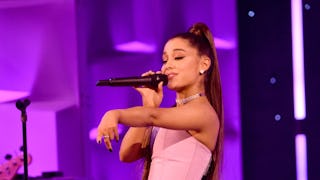 Image via Kevin Mazur/Getty Images for Billboard
Ariana Grande will make it easy for U.S. fans to register to vote at all her upcoming shows
Ariana Grande just kicked off her much-anticipated Sweetener tour with a show at the Times Union Center in Albany, New York, last night. And fans who went to hear their favorite bops (because she is the queen of bops) were met with an unexpected surprise: they could see the pop star perform and register to vote, all at the same venue.
Grande partnered with nonprofit organization HeadCount for the entirety of the U.S. leg of her world tour. Together, they created the "#thankunextgen" initiative, which will offer a bunch of different ways for Grande's fans to get civically involved while attending her concerts.
"Together, we designed #thankunextgen, a program to help Ariana's fans make their voices heard," HeadCount wrote on Twitter, announcing the initiative.
Not only can fans visit booths where they can register to vote at all of Grande's U.S. concerts. They can also text ARIANA to 40649 to register to vote from their phone if they're unable to attend one of the singer's shows, volunteer, contact their legislators or schedule a reminder to register to vote on their 18th birthday. Honestly, this whole thing is genius and we are here. For. It.
So are Grande's fans, unsurprisingly.
HeadCount has a long history of partnering with celebrities and entertainers to help spread the word about registering to vote and other civic issues. They've done similar campaigns with Jay-Z, Wilco, Phish, Dave Matthews Band and the Dixie Chicks. They'll also reportedly have volunteers on hand to register new voters at upcoming concerts for The Revivalists, Bob Weir & Wolf Bros. and more.
A partnership like this isn't too surprising for Grande, who has become gradually more politically active since her concert in Manchester was the target of a terror attack in June of 2017. Since then, Grande has spoken out on multiple occasions about fighting hate and bigotry. She also performed at the March For Our Lives and has spoken in support of Black Lives Matter.
She's also opened up in interviews about being outspoken about her political beliefs, and using her platform to influence her fans to fight for the changes they believe in.
"There's a lot of noise when you say anything about anything," she told Elle magazine last summer. "But if I'm not going to say it, what's the fucking point of being here? Not everyone is going to agree with you, but that doesn't mean I'm just going to shut up and sing my songs. I'm also going to be a human being who cares about other human beings; to be an ally and use my privilege to help educate people."
Amen to that. And anything that gets more kids and young adults interested in voting is a great thing. The only way change will come is if we fight for it, and this move by Grande is definitely inspiring more people to do just that.
This article was originally published on