Ariana Madix Opens Up About Mental Health And Her Sexuality On 'Vanderpump Rules'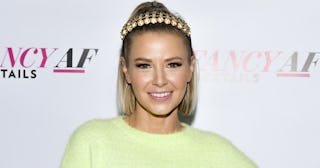 Rodin Eckenroth/Getty Images
Ariana Madix is the real MVP of 'Vanderpump Rules' this season
Amid all the bachelorette party drama and Brittany Cartwright and Jax Taylor's pastor anti-gay comments seen this week on Vanderpump Rules, we need to take a moment to highlight the brief segment earlier in the episode where we watch Ariana Madix and SURver Dayna Kathan bond over being bisexual, because these are the kind of conversations we should be seeing more of on reality TV.
Last episode, we watched the Vanderpump Rules cast partake in all of the Sur Restaurant and L.A. Gay Pride festivities. For one particular cast member, Dayna, it was her very first L.A. Pride; and to commemorate the moment, she took to Instagram to announce she is bisexual.
"This will come as a surprise to no one who really knows me, but I am bisexual," Dayna wrote. "Whether you're a little gay, or super gay, or not gay at all, let's all try to remember that we're in this human experience together. Happy pride!"
"I just feel so much lighter now that that's out there," Dayna told Ariana during the episode, adding that she thinks she knew in middle school that she was "different." "I remember noticing both genders, and I had this good friend and we kissed for the first time. Immediately after I kissed that girl, I remember feeling I shouldn't tell anyone. But then I was like, you know what, fuck it; this is who I am."
This also happened to be the first time Ariana attended Pride as an openly bisexual woman.
Ariana opened up about her sexuality last season on the show after her boyfriend Tom Sandoval revealed that she and co-star Lala Kent had a sexual encounter in the back of his car. Needless to say, Ariana was pissed.
"I'm not embarrassed or ashamed of what happened between Lala and I, but I do feel like Tom betrayed my trust by telling this story to his guy friends. My sexuality is not something that is meant to sound cool to a bunch of dudes," she said in a confessional interview. "When you talk about anyone's sexuality without their consent, it's really not OK."
More recently, Ariana took to Twitter in January to address Jax's under-the-breath comment during Bravo's Watch What Happens Live (WWHL). "I DO like women AND men. It's called being bisexual," she tweeted. "Ever heard of it? #thisisnthard"
During the WWHL episode, a caller asked Jax how he felt about Ariana and Sandoval's relationship. More specifically, the caller asked if Sandoval is jealous that Jax is married and looking to start a family, to which Jax muttered, "she likes women," implying Ariana's a lesbian. Brittany was quick to tell Jax he was wrong to make that comment, and host Andy Cohen also prompted Jax to address his comment. "You think Ariana likes women? What do you mean you didn't mean it? You just said it," Cohen said.
It didn't even end there, either. Later that month, Cohen played the clip to Ariana during her visit to WWHL, to which she responded, "I thought it was really gross."
"I also thought it didn't make any sense on any level," she continued. "I mean, there are lesbians who have children, there are lesbians who don't. There are women who have children who are married, and there are women who are married who don't. None of it made any sense. Also, I've been very open and honest about the fact that I'm bisexual, and I don't think that that's an issue. It's certainly not an issue in my relationship, so, I think he should just chill out."
The fact that Ariana has had to address her sexuality multiple times on- and off-camera is frustrating (and that's likely an understatement); so, it's understandable that Ariana also expressed just how infuriating the whole pastor situation was for her. "With my whole identity as a bisexual woman, it really just brings out my anger. Nobody has said anything about it to Jax nor Brittany because everyone's afraid to tell them," she said during tonight's episode.
In short, the pastor that Jax and Brittany initially chose to officiate their wedding, Ryan Dotson, was under fire just a couple of weeks before their wedding for his anti-trans and anti-gay Facebook statuses — statuses that Sandoval said Jax and Brittany were tagged in. Redditors, however, uncovered the statuses and started a thread months prior in December 2018. The couple was quick to replace him with none other than former *NSYNC boy bander Lance Bass once the pastor's homophobic comments went viral.
Ariana is exactly the voice we need on this show — and reality TV, in general. She's unafraid to not only open up about her bisexuality, but also open up about mental health. In two episodes so far this season, she has candidly discussed her ongoing battle with depression, telling Lisa Vanderpump that she suffered from "an underlying feeling of despair." She added that although she had "always thought that [suicide] was so far out of the realm of anything that [she] would ever do," she described a morbid thought she had while driving her car on the freeway: "What if I just drove it off the edge? What if I just did that?"
"For a long time, I was kind of under this impression that my depression was situational, that I was in this shitty apartment and that that was what was causing it. And now I thought, 'I'm moving to this beautiful house, the home of my dreams, and that's gonna make everything go away.' But it hasn't," she continued to tell Lisa.
Ariana opening up about what she said is likely depression is all too relatable. According to a 2018 report by Blue Cross Blue Shield, more than 9 million people (or 4.4 percent of the population) in the United States alone have been diagnosed with depression. And, depression diagnoses in millennials are up 47 percent since 2013, with women diagnosed with depression 6 percent more often than men.
After the episode aired, fans didn't hesitate to show their support for Ariana.
Ariana has clearly seen and felt the support, taking to her Instagram Stories at the time to tell fans: "I want all of you to know that I see you and I love you. The world is better with you guys in it. I'm happy to be able to connect with you, learn about you, and go through this life as a team. We may have never even met, but you feel like my friends and I'm glad you're here."
We love you, Ariana.
Vanderpump Rules airs Tuesdays at 9/8c on Bravo.