Anthony Bourdain's 11-Year-Old Daughter Paid Him Tribute In The Sweetest Way
by Christina Marfice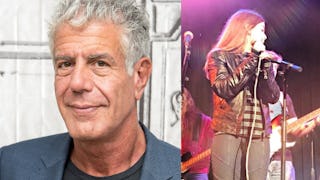 Image via Mike Pont/WireImage / Ottavia Busia-Bourdain / Instagram
Ariane Bourdain's nod to her dad was subtle, but so meaningful
Since Anthony Bourdain's death was announced, people all over the world having been paying him tribute. It's amazing to see so many lives that he touched all over the world, just by bringing food and the world to our TV screens.
But as touching as the tributes from other chefs and fans have been, they've got nothing on what his 11-year-old daughter, Ariane, did. Over the weekend, she performed in a concert. Her mom, Ottavia Busia-Bourdain, snapped a photo for Instagram. And in the caption, she revealed the subtle way Ariane paid tribute to her dad during the show.
"Our little girl had her concert today," Busia-Bourdain wrote. "She was amazing. So strong and brave. She wore the boots you bought her."
Yep. Dad bought her those boots, probably from some exotic country where he was filming, and then she rocked them onstage. We're not crying, there's just something in our eye.
Just kidding. Definitely sobbing, once again.
She ended the post with this heartbreaking message to Tony: "I hope you are having a good trip, wherever you are."
Where did I put those tissues? Because I need them. Bad.
Bourdain has always been very open about his love for Ariane, who was born when he was 50.
"I became a father at fifty years of age. That's late, I know," he wrote in Appetites: A Cookbook. "But for me, it was just right. At no point previously had I been old enough, settled enough, or mature enough for this, the biggest and most important of jobs: the love and care of another human being."
In that same book, he also wrote, "From the second I saw my daughter's head corkscrewing out of the womb, I began making some major changes in my life. I was no longer the star of my own movie — or any movie. From that point on, it was all about the girl. Fatherhood has been an enormous relief, as I am now genetically, instinctually compelled to care more about someone other than myself. I like being a father. No, I love being a father. Everything about it."
The love between them is clearly so strong. He will be missed all over the world, but our hearts are really with Ariane right now, who must be missing him more than any of us fans can even imagine.
This article was originally published on