'I Am Not Ashamed': Ariel Winter Rocks Breast Reduction Scars On The Red Carpet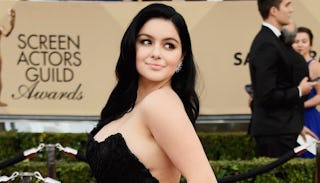 Ariel Winter explains why she showed off her breast reduction scars at the 22nd annual Screen Actors Guild Awards.
Ariel Winter turned heads at the 22nd annual Screen Actors Guild Awards on Saturday, but it wasn't just her stunning black dress that caught everyone's attention. Instead, Winter wowed the world by proudly showing off the scars she earned last year when she underwent breast reduction surgery after years of bullying and body-shaming.
The Modern Family actress donned a form-fitting strapless dress with an open back that hung just below the visible scars on her sides. As she posed on the red carpet, the internet was abuzz with people wondering whether or not she knew the scars were showing. When Winter saw that people were labeling it a "wardrobe malfunction" she took to Twitter to let them know that actually she meant to show them off. She tweeted, "Guys there is a reason I didn't make an effort to cover up my scars! They are a part of me and I'm not ashamed of them at all."
The 18-year-old has been vocal about her decision to have breast reduction surgery, as well as the body-shaming she faced both before and after the procedure. In November, she fired back at some Instagram commenters who criticized her body in a bikini picture, telling them that each woman's body is her own and that bullying someone for the way they look is never okay.
Before that, she opened up to Glamour magazine about the horrible comments she'd received as a young teen with size 32F breasts. She told the magazine people would accuse her of having fake breasts, even when she was just 14 years old, and as her career grew, the only things she ever saw about herself in magazines and online were comments about her "huge boobs." She adds that her breast reduction was something she did completely for herself, and that it made her "finally feel right" about who she is and how she looks.
Winter is still so young, but already she's an example to women of all ages about the power of embracing your body, flaws and all. She could have easily stayed quiet about being bullied and having surgery, and she could have chosen to carefully dress to hide her scars. Instead, she chooses to use her platform to inspire women to see the beauty in themselves and embrace the things that make each of us unique.
Whether it's breast size, wrinkles, stretch marks, cellulite, or scars, we all have things on our bodies we'd like to change. Winter's bold move in showing and owning her so-called imperfections is a reminder that even the things we don't like are an important part of who we are, and it's those little imperfections that actually make us beautiful and one of a kind. It takes many people a lifetime to figure that lesson out. Kudos to Winter for learning it at such a young age, and for using her voice to inspire other girls and women to love their "scars" too.