Ariel Winter Beautifully Shut Down Trolls Who Said She Used Drugs To Lose Weight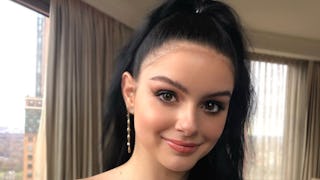 Image via Ariel Winter / Instagram
Ariel Winter has the body positive clap back you need to see today
Ariel Winter, who has starred on Modern Family since she was just 10 years old, has now spent most of her life in the spotlight. Navigating puberty and young adulthood is hard enough, but doing it as a famous actor on a popular sitcom? Yikes.
Somehow, Winter has managed it all with grace and become a body positivity icon, despite constant scrutiny placed on her weight and appearance. She showed it this week when trolls came at her on Instagram, accusing her of using illegal drugs to lose weight.
In a sweet New Year's post, Winter posed with her boyfriend, Levi Meaden. They're both all smiles and looking happy and cuddly as they ring in 2019.
https://www.instagram.com/p/BsHUOgDAu-U/?utm_source=ig_embed
It's a sweet photo, but anyone who's been on the internet know we can't have nice things. Commenters first noticed the champagne in 20-year-old Winter's hand, and decided to call her out. Things spiraled from there to rude comments on her weight, because for some reason some people think it's OK to comment on a stranger's weight on the internet.
Winter came back at them, pointing out (not for the first time, we might add) that her weight fluctuations have been largely because of her struggles to find an antidepressant that worked for her while she worked through her very public struggles with mental illness. It's brave AF to face depression at all, let alone to do it in the spotlight. The fact that Winter is able to stay so cool and collected through this shit is pretty amazing.
After seeing strangers comment on her supposed cocaine and meth use, though, Winter was clearly over it. She hit back with a long message directed at the troll who insisted drugs were responsible for her weight loss.
Can we just take a moment and applaud this young woman for taking no bullshit?
This is far from the first time the Modern Family star has had to stand up to online body shamers. She faced scrutiny for wearing a dress to the 2016 SAG Awards that showed the scars from her breast reduction surgery. And on Instagram, she's frequently spoken out about being forced to learn to love herself in order to stand up to her online bullies.
It's garbage that Ariel Winter has to keep standing up to this kind of abuse, but we're glad she's here to be such a body positive role model.