Sacred Native American Burial Sites Being Destroyed For Trump's Border Wall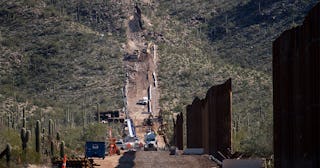 The Washington Post/Getty
There has been "no consultation" by the Trump administration in advance of the blasting
A national monument in Arizona, home to sacred Native American burial sites, is being blown up this week as part of construction for President Trump's border wall, Customs and Border Protection confirmed to CBS News.
The government is calling the exercise "controlled blasting" inside Arizona's Organ Pipe Cactus National Monument to make room for the wall. It began without consultation from the Tohono O'odham Nation, a collective government body of the Tohono O'odham tribe, The Intercept reported.
"There has been no consultation with the nation," said Congressman Raúl Grijalva of Arizona, who is the chair of the House Committee on Natural Resources. "This administration is basically trampling on the tribe's history — and to put it poignantly, it's ancestry."
The site is adjacent to the Tohono O'odham Nation. Archaeologists that toured the site before construction began said they found human remains dating back 10,000 years. "The construction contractor has begun controlled blasting, in preparation for new border wall system construction, within the Roosevelt Reservation at Monument Mountain in the U.S. Border Patrol's Tucson Sector," a statement from U.S. Customs and Border Protection said. "The controlled blasting is targeted and will continue intermittently for the rest of the month."
The plan is to use that land to build a 30-foot-high steel wall meant to be part of a 43-mile wall along the southwest border, the Associated Press reported. The blasting that's happening now, Grijalva said, "is just the crudest indication of what's going on."
Tohono O'odham Nation's reservation is private land, but its burial site is on public land. Grijalva is asking for an immediate "government-to government" consultation with the Tohono O'odham nation. "There's been stonewalling, no response for any request," he said.
He also added that the current wall design would make migration difficult for numerous species, including jaguar, deer, and pronghorn antelope, that call the area home.
CBP said it had an "environmental monitor" on-site for the work, but did not go into any additional detail.
The Trump administration has been able to legally construct the border wall over public land because of a law passed after 9/11.
The REAL ID Act of 2005 gives the federal government power to waive other laws that stand in the way of national security. Under REAL ID, the Trump administration has waived dozens of laws — including the Native American Graves Protection and Repatriation Act, the Endangered Species Act, and the Environmental Protection Act — in order to build his wall.
"Of the 21 times the (REAL ID) waiver has been enacted since 2005, 16 of those instances have occurred in the last two and a half years," Grijalva said. "A historically significant area is going to be changed irreparably. You're never going to be able to put it back together."