Arming Teachers Is Reckless And Puts Our Kids In Danger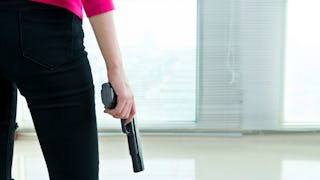 baona/Getty
In Congress this week, the safety of our families is at stake. Not just if the Senate decides to confirm Brett Kavanaugh to the highest court of the land, but also if the Department of Education decides to use federal funding from the Every Student Succeeds Act to arm teachers with guns, which will likely be considered during the Senate Health, Education, Labor and Pensions Committee hearing on Tuesday.
School has been back in session for just weeks and already the Department of Education is hard at work finding a way to use taxpayer dollars to arm teachers. The answer to gun violence on school grounds is responsible gun laws and gun storage. It isn't asking teachers, who already pay for basic school supplies out of their own pockets, to use federal education dollars to buy guns instead of the tools their students need to succeed.
But Education Secretary Betsy DeVos had been considering a plan that would do just that. According to reports, the Department of Education has been weighing a plan to allow schools to use federal money — money that's supposed to be used to "improve students' academic achievement" — to buy guns and arm teachers. If this plan were to go into effect, it would reverse the federal government's longstanding practice of not paying for weapons in our schools. After weeks of significant backlash from concerned parents, teachers, and everyday Americans, Secretary DeVos is attempting to take the pressure off her department by punting the issue to Congress.
Thankfully, Congress already made its position clear when it passed the the Every Student Succeeds Act. That law was intended to provide schools with the tools and flexibility to help children learn. Authors of the bill have stated that the intent of Congress was never to use these funds to put guns in the classroom and Congress can't let Secretary DeVos start doing so now.
Our nation's educators go above and beyond. It's absurd to add "sharpshooter" to their job description. And it's not just an extra responsibility. Asking teachers with little to no training to take out active shooters in a crowded classroom is incredibly dangerous. There's no evidence that guns in our schools protect children. Even highly-trained police only hit moving targets about 30 percent of the time. Armed civilians are even less likely to intervene successfully, and may inadvertently make it more difficult for law enforcement to do its job.
We know when children gain access to a firearm the risk of suicide, homicide and unintentional shootings skyrockets. As all parents know, children pay attention. And tragically, more often than not, they figure out where guns are stored and how to access them. The idea that children will not similarly know where their teacher keeps their gun is reckless.
Arming teachers also significantly risks the safety of children of color, who are already much more likely to be disciplined than their white peers. When the people responsible for discipline have guns, that can mean life or death consequences for children of color and their families.
In the face of overwhelming evidence that arming teachers will make gun violence even more likely, students, parents, teachers and school safety experts – including police officers and the nation's two largest organizations of education professionals – have voiced their opposition to this senseless and dangerous policy. In 2018 alone, Moms Demand Action volunteers helped convince 16 state legislatures to reject legislation that would have allowed guns in schools.
Arming teachers isn't something Americans want. It's about what the gun lobby wants – specifically by furthering its "guns for anyone, any time, no questions asked" agenda. Arming teachers would use tax dollars to financially reward the gun lobby, while inculcating a new generation to the normalization of "guns everywhere."
Instead of letting the Department of Education put guns in teachers' hands, lawmakers should work to keep guns out of the hands of people with dangerous histories. Policies like background checks and red flag laws have been proven to decrease gun violence and save lives, and are being embraced by voters and lawmakers in states that used to be NRA strongholds. Now it's Congress' turn.
Congress needs to ensure that the Department of Education can't now — or in the future — unilaterally change the rules to allow states to spend federal education dollars on arming teachers. Call your representatives, tell them that you want your tax dollars to be spent on books, not bullets, and demand they do whatever necessary to stop this proposal from becoming a reality. The safety of our kids is at stake.
This article was originally published on