Arnold Schwarzenegger's Message To Rioters At Capitol: 'You Will Never Win'
by Julie Scagell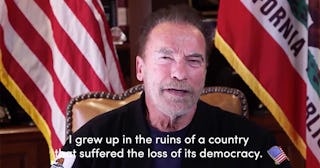 Schwarzenegger/Twitter
Schwarzenegger compared the Proud Boys to Nazis
Former California Gov. Arnold Schwarzenegger posted a power video to Twitter on Sunday, opening up about his childhood in Austria after World War II in light of what took place at the Capitol last week.
In the nearly eight minute, Schwarzenegger recalls Kristallnacht — or the Night of Broken Glass — when a mob of Nazi sympathizers stormed through Jewish neighborhoods in Germany in 1938. They killed dozens that night and captured Jewish men to be sent to concentration camps. They also destroyed thousands of businesses and the name came to symbolize the shattering of Jewish lives across Europe.
"Wednesday was the day of broken glass right here in the United States," Schwarzenegger said. "The broken glass was in the windows of the United States Capitol. But the mob did not just shatter the windows of the Capitol. They shattered the ideals we took for granted. They did not just break down the doors of the building that housed American democracy. They trampled the very principles on which our country was founded."
Schwarzenegger immigrated to the United States in 1968 but grew up in Austria and recounted the toll the Nazi party took on his country and many others. "Growing up, I was surrounded by broken men drinking away their guilt with their participation in the most evil regime in history," he said. "Not all of them were rabid anti-Semites or Nazis. Many just went along step by step down the road. They were the people next door."
Schwarzenegger's father was a member of the Nazi party and he explains the abuse he inflicted on his family and himself growing up. He also compared Trump to Hilter, another failed leader who caused so much unnecessary pain and death. "My father and our neighbors were misled also with lies. And I know where such lies lead. President Trump is a failed leader. He will go down in history as the worst president ever," he said.
He also said having lived through it, we must not repeat history. "Being from Europe, I've seen firsthand how things can spin out of control," he said. "I do believe that we must be aware of the dire consequences of selfishness and cynicism," he warned, calling what happened during Kristallnacht, "the Nazi equivalent of the Proud Boys."
Schwarzenegger is a member of the Republican Party but has spoken out against Trump on many occasions over the past four years. In the video, he denounces members of his party who continue to stand by Trump, calling them "complicit" in the insurrection and in what is happening in our country.
"To those who think they can overturn the United States Constitution, know this," he said. "You will never win."