Artist Reimagines Disney Princesses As Women's Rights Activists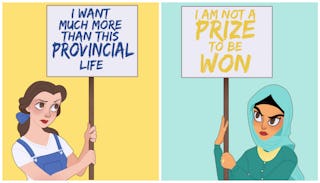 Image via Amanda Niday
"I want much more than this provincial life."
The princesses are taking down the patriarchy, and can we just say – you ladies have never looked better. Thanks to the kick-ass imagination of an artist in Oregon, we get to see what Belle, Jasmine, Cinderella, and all of the princesses would look like as women's rights activists – and it's brilliant.
Amanda Allen Niday created resistance-inspired illustrations with Disney princesses as protesters. They take on issues like sexism, racism, and xenophobia – basically, they're total badass revolutionaries.
Fittingly, each princess is carrying a sign with a line from their own movie.
"I am not a prize to be won," says Jasmine's sign.
Cinderella's reads, "They can't order me to stop dreaming."
"I want much more than this provincial life," pleads Belle.
"I wanted to recast my childhood heroes as the heroines I needed today," Niday tells Scary Mommy.
She says as a young girl, these characters had a big influence on her life. She would play Little Mermaid in pools, she had an Aladdin-themed birthday party, and sang along to all of the songs on cassette tapes. But, as Niday grew older, she became aware of the shifting of social mores and expectations of women.
"Being generous and kind in the face of abuse and struggle maybe isn't the daring heroics of crossing the ocean or fighting bears, but I believe that these messages still have great value and a quiet strength and should be given their due," Niday explains.
She tells Teen Vogue that she got the idea to illustrate the picketing princesses after watching women come together for the Women's March on Jan. 21.
"I felt inspired by the way women expressed themselves on their signs, from the witty and charming to the downright scathing. Women coming together from all backgrounds to say "we are HERE and we MATTER.'"she said. "I wanted to hold onto that message as my news feeds dissolved back into squabbling and finding faults in our differences, rather than understanding."
Niday binge-watched Disney movies and started sketching.
"I wanted to highlight that these influential, feminine, and iconic princesses have a strength that is relevant and important to our modern issues," she says.
She didn't want to put words in their mouths because she felt their stories were powerful and relevant enough as is. The results were interesting because we don't always connect feminism with Disney princesses. In fact, we tend to think of them as the opposite.
Undoubtedly, Disney has made large strides to evolve the story lines of their princesses and make them multi-dimensional and strong characters. Alas, it's still challenging to think of these princesses as revolutionaries, when many of their stories are antiquated. But that's what makes Niday's project so brilliant- it calls on us to see their strength – in the many forms it takes: silent or loud, the subtle, and the overt.
"I wanted to take these women that I admire, heroines for children and incredibly influential on who I am, and set them onto a modern heroic path – fighting a fight that I myself need to fight," Niday says. "And I believe that they would be, because their stories are about strength, perseverance and fighting when it might have been easier to give in."
As for reaching our children with these messages, Niday says the time is now.
"If you want to raise children to have these values, you must introduce them when they are young."
These images seem like they'd provide the perfect start.
This article was originally published on