How A Packet Of Restaurant Crayons Started An Organization To Help Underfunded Schools
by Nikkya Hargrove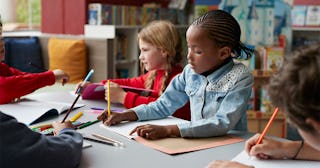 Klaus Vedfelt/Getty
We've all gone to restaurants and yearned for our kid to let us finish our meal while it's still hot. We anticipate the arrival of the infamous coloring sheet and crayons as we hold onto a hope that it will keep them busy. Have you ever thought about what happens when your kid leaves the crayons at the table, gripping their macaroni-stained coloring sheet as you leave the restaurant? Where do all those crayons go? That's exactly what Founder and President Sheila Morovati of Crayon Collection thought after sharing a meal with her then three-year-old daughter. These crayons can be put to better use, she thought.
Today, Crayon Collection provides an environmentally conscious approach, recycling the crayons from restaurants while helping arts education remain in underfunded schools. Crayon Collection not only provides arts education curriculum to schools and community centers, but fosters the love of art in children who otherwise might not have access to such resources.
In 2009, Sheila launched Crayon Collection with a mission to not only inspire a commitment to environmental consciousness but to infuse art education into school systems which were underfunded. In a 2019 EdBuild report, an organization which studies school funding within the United States, told NPR that "The report starts with a number: $23 billion. According to EdBuild, that's how much more funding predominantly white school districts receive compared with districts that serve mostly students of color." Specifically, EdBuild said, "High-poverty districts serving mostly students of color receive about $1,600 less per student than the national average. That's while school districts that are predominately white and poor receive about $130 less."
And herein lies the very issue of why some schools need to cut certain parts of students' education — there just isn't enough funding to do it all. Unfortunately, arts education is usually the first to go. This is a norm within the education system that the Crayon Collection is working to change.
Sheila turned her concern about the fate of restaurant crayons into an innovative organization that helps Title 1 schools close the education gap. When Sheila began the Crayon Collection, she says, "I think my biggest shock was that the schools in the U.S. didn't have enough funds to buy their supplies and teachers had to buy their own supplies. The second shock is that the schools would not teach any arts education — it really hit home that I need to support my own backyard. We focused on getting the Crayon Collection in all 50 states, and any time we had the ability to support other countries we did." Since 2009, the organization has donated over a million crayons to schools and centers in need. In 2021, the Crayon Collection became the Guinness Book of World Records holder for most crayons ever donated.
Crayon Collection's arts education program provides schools, after-school programs, and community centers with the tools they need to bring arts education to kids. With lessons that align with the STEM curriculum, their programs can help all teachers — no matter their subject area — bring art into every classroom.
Crayon Collection delivers crayons across the United States and to 10 countries. The Crayon Collection offers four different programs in an effort to support the social and emotional development of kids: Crayon Recycling, Arts Education, Color Kindness, and H.O.W. (Habits of Waste, which highlights the ways in which we waste and discard things that negatively impact the planet).
Crayons are collected from anyone who wants to donate, from restaurants to schools to companies. At the onset of the pandemic, Crayon Collection sent 40,000 crayons to kids. The pandemic provided a unique opportunity for Crayon Collection, Sheila says: "A lot of kids were no longer able to go to school and have those resources we've provided. We started to send crayons into the homes of the families. We wanted kids to have access to art education and that therapy at home. We also shifted our resources to the Color Kindness program where we write nice and kind notes to send to our frontline workers and encourage kids to take them to their grocery store workers — it was a way for us to give the tools for the kids to give back."
The big lesson here is that we all can help kids in need. Are your kids bringing home sacks of unused crayons from the school year? Give them a new life! It's just that simple, and visiting www.crayoncollection.org is one way you can get started today.
This article was originally published on