The FDA Found Asbestos In Makeup From Claire's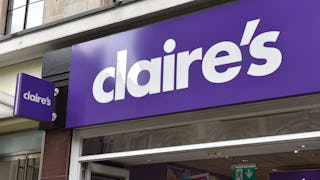 Image via John Keeble/Getty Images
Makeup from kids' retailers Claire's and Justice has been found to contain asbestos
If you or your kids shop at Claire's or Justice for makeup, it might be a good idea to throw it out. The FDA has been investigating products from the two retailers, and just announced that it found asbestos contaminants in at least three of the mall chains' makeup products.
It was first reported in 2017 that some makeup products from Claire's and Justice might contain asbestos, prompting Claire's stores to voluntarily pull some products from their shelves, and Justice to do a formal recall of 17 products. However, nothing was ever formally recalled by Claire's, despite the fact that any amount of asbestos in makeup targeted toward kids is potentially dangerous to their health.
Now, the FDA is urging people not to use eye shadows, compact powders and contour palettes, since Claire's is still refusing to recall them. The store said the test results "show significant errors," and that the items the FDA is warning us about have been "extensively tested by multiple independent accredited laboratories" and found to be safe. Basically, this is like a he-said, she-said, where one party is the FDA and the other is Claire's, except if there's any chance at all that your kid's makeup contains asbestos, you really should just chuck it in the garbage.
Now, in light of all this, the FDA is calling for stricter regulations in the makeup industry. It says it's unable to force Claire's to recall the potentially dangerous products, and it wants to have that power in the future. The Federal Food, Drug and Cosmetic Act, which is the law that gives the FDA its power to regulate the safety of all the products it oversees, hasn't been updated since it was enacted in 1938, and the department's commissioner, Dr. Scott Gottlieb, says that's way too long.
Gottlieb told the New York Times that the FDA is blocked by "limitations on our cosmetic oversight authority," and that the cosmetics industry is left to basically regulate itself. Hence Claire's' refusal to recall potentially carcinogenic products, and the FDA not being able to do anything about it.
Luckily, while Claire's and the FDA fight this one out, people seem to be erring on the side of caution, and making sure they get the products that might be affected out of the hands of kids, which is really the most important point.
Now, with so many headlines and likely a lot of public pressure, we'll see if Claire's will finally recall the products in question.
This is just the latest bad news for Claire's; the former mall staple filed for Chapter 11 bankruptcy last year. Ownership of the chain was transferred to a group of lenders (along with Claire's' $2 billion in debt), and news like this is pretty unlikely to help the stores recover from their financial struggles. Our '90s hearts are a little heartbroken to see Claire's go through so much, but if they're actually willingly selling asbestos-contaminated makeup, well, it's for the best.
This article was originally published on