This Mom Hiding In The Pantry Is All Of Us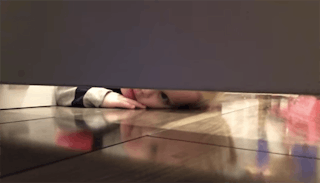 Image via FB/ A Miracle Unfolding
Kids. They want everything you have
She who hasn't taken a treat into the pantry and hid from her kids can cast the first stone.
Ha. We all have. That's the point. What is with these little soul-suckers? Can we not have some me time? Can we not enjoy an ice cream cone, or a piece of chocolate, or in this mom's case — a freaking piece of licorice without little hands trying to grab it out of our mouths?
Ashley Gardner is a mom who shares her life with her quadruplets via her Facebook page, A Miracle Unfolding. She posted a video to YouTube this week that pretty much sums up the life of a mom in 34 seconds.
"Dad's out shoveling the driveway. Mom desperately needed a treat to get through the night," her video begins.
"So I'm hiding in the pantry. Eating a treat. Is that wrong?"
Done it. Guilty. Been there. Hands in the air if you feel this mom's pain.
"They don't ever go away," she continues. "They want everything you have. See? She's always there." Cut to her adorable daughter shoving her pudgy little fingers under the door.
ARGH. The fingers under the door! Those damn adorable fingers that never leave us alone! Then her adorable little voice says, "Hi!" And you die. And you open the door. And you share your licorice.
Damn kids. Why are they so cute? And yes — they really do want everything you have.
This article was originally published on