Ashley Graham Makes First Official Appearance With Her Bump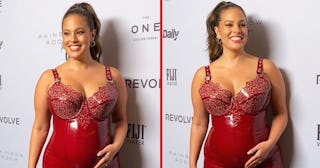 Ashley Graham/Instagram
Pregnant Ashley Graham shined in a red latex dress
Mode, business woman, and all-around picture of perfection, Ashley Graham, recently announced her pregnancy with husband of nine years, Justin Ervin. Since then fans have been dying to see her and her bump out and about and as luck would have it, she did just that –in a red latex dress.
The mom-to-be was presenting her friend and model, Halima Aden, with an award at the Daily Front Row's 7th annual Fashion Media Awards in New York but it was her infectious smile and belly that stole the show. "Making an appearance with the bump in honor of my friend and Breakthrough Model of the Year @halima," Graham wrote on Instagram. "I was so honored to present you with this award tonight and am constantly inspired by the kind, fearless, force for change that you are."
Aden, is an American fashion model currently signed with IMG. She is a force to be reckoned with as well, becoming the first woman to wear a hijab in the Miss Minnesota USA pageant, where she was a semi-finalist.
Graham has been over-the-moon excited about impending motherhood, sharing gorgeous pregnancy photos on social media for fans, but seeing her in real life in a dress only she could pull off left her fans even more excited.
She announced her pregnancy while celebrating her wedding anniversary with Ervin, telling the world, "Nine years ago today, I married the love of my life," she wrote. "It has been the best journey with my favorite person in the world! Today, we are feeling so blessed, grateful and excited to celebrate with our GROWING FAMILY! Happy anniversary, @mrjustinervin. Life is about to get even better."
The model has been inspiring women for years with her messages of body positivity and loving the skin you're in. "I'm not here to make you feel 'beautiful,' whatever that means," Graham said at a Glamour event in New York in 2017. "I'm here to make you understand that true beauty is being OK with who you are. Being OK with who you are is a revolutionary act. And making someone else feel OK with who they are? That's downright heroic."
She's also been quick to clap back at shamers who said she'd never make it in modeling. "The fashion world told me I'd never make it as a 'real' model, because of my curves," she said. "Cut to: the covers of Glamour, Vogue, the Sports Illustrated Swimsuit Issue…and last year Mattel made a Barbie of me. With no thigh gap. And cellulite." Boom.
Now that she's a mom-to-be, Graham will not likely run out of opportunities to remind the world just how powerful women, and mothers, are. If we just learn to believe it ourselves, imagine how much better the world would be.