Ashley Graham Says Her Baby Shower Was 'Bigger Than My Wedding'
by Valerie Williams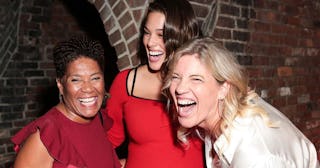 Ashley Graham/Instagram
Ashley Graham's baby shower was full of love — and piercings and tattoos
Model and body positivity icon Ashley Graham shared the happy news of her pregnancy this past August, and ever since, she's brought fans along for the ride. From showing off her gorgeous new curves to gleefully announcing that she's expecting a son, Graham has been only too happy to let us all in on the joy. Now, she's posting photos from what looks like the most fun baby shower of all time — and we're a little jealous that we weren't invited.
It's clear that love and family play a completely central role in the lives of Graham and her husband, Justin Ervin. Among the party guests are both of their moms, pictured in the first snap of her post thanking everyone for coming. "Feeling so blessed to have such a strong support system in our lives. Thank you to everyone who came together to celebrate our baby boy! I've never had so many hands on my belly and I LOVE IT! We feel so lucky and excited to be experiencing this new chapter with all of you in our lives and everyone who has shared so much love here!" she writes.
She shared a photo of herself and Ervin, absolutely glowing, and we've just died of cuteness.
Graham's total joy at being surrounded by loved ones is evident in every photo, and this might be a great time to point out that she looks absolutely fantastic. That dress. Stop it.
They literally couldn't get any cuter.
Television personality Derek Blasberg also shared some of the fun going on at this absolute blast of a baby shower.
There were free manicures.
Tattoos.
Oh, and piercings.
Graham's doula shared video of her speech where the model encouraged guests to take part in all the fun the shower had to offer. "If you haven't gotten your ears pierced or a tattoo, you have to do that. There's so much food, there's a big cake that's bigger than the one at our wedding," she said. "Thank you all so much. We can't raise this baby boy without all of you, you're our community." She also told the crowd the event overall is "bigger than our wedding."
It just looked like a ridiculous amount of fun.
We will work on getting through our FOMO at having not attended this totally fun event, and hopefully, Graham will keep sharing more of these adorable glimpses into the lead-up to her becoming a momma. We can't really get enough.
This article was originally published on