Ashley Graham Shares Body Positive Bump Photos, And Of Course They're Inspiring As Hell
by Christina Marfice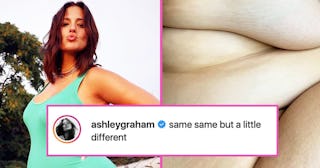 Ashley Graham/Instagram
Allow Ashley Graham and her gorgeous bump photos to be the end-all proof that all pregnancies are beautiful
Ashley Graham is currently expecting her first child with her husband of nine years, Justin Ervin, and, as expected, she's slaying this whole pregnancy thing. Is anyone surprised by that? This woman slays everything.
Graham announced the happy news last week in a video posted to Instagram that debuted her baby bump to the world.
And since then, Graham has been lighting up her social media with bump pics, and let us be the first to say that we are here for every single one of them.
https://www.instagram.com/p/B1MYIp2AIIb/
Graham has always been an absolute force for body positivity. While her physical beauty is absolutely stunning, it's her inner beauty that's always drawn us to her.
"I'm not here to make you feel 'beautiful,' whatever that means," Graham said at a Glamour event in New York in 2017. "I'm here to make you understand that true beauty is being OK with who you are. Being OK with who you are is a revolutionary act. And making someone else feel OK with who they are? That's downright heroic."
And now, Graham is using her pregnancy to live that example.
Take, for example, this gorgeous photo she posted that shows not only her growing baby bump, but also her cellulite and stretch marks that have always been there — that she's always openly loved. She captioned that one, "Same same but a little different." Get it? The body is the same as it's always been — cellulite and stretch marks and all — except a little different, because now there's that sweet baby bump. We see what you did there, Ashley Graham.
We already know that there's not just one way to be pregnant. It doesn't take a certain type of body to grow a child. And every pregnancy is equally beautiful, because the end result is a brand new human. Graham is the living embodiment of all of this. She's proud of her body, just the way it is, all the time. And now she's extra proud of it because it's doing this incredible job of creating a new person that she'll get to be a mom to.
We seriously cannot get enough of these bump pics, and we hope she keeps them coming. We also cannot get enough of Ashley Graham being the super inspiring, body-positive force we need in the world right now, and we know she'll keep that coming.
This article was originally published on