Ashley Graham Lovingly Celebrates Her Post-Baby Stretch Marks
by Leah Groth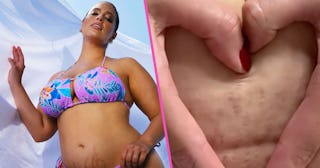 Ashley Graham/Instagram
Model Ashley Graham posts a video celebrating her stretch marks
Supermodel Ashley Graham is clearly a game-changer for her industry. Not only is the 32-year-old mother of one gorgeous, but she has brought sass, inclusivity, and candidness to an industry that used to be defined by appearances only. Watching Graham embrace motherhood like the badass that she is has been breathtaking. From showing off her pregnant body to the hilarious and not-so-pleasant moments that the majority of us experience in the early months of parenthood, she has managed to make changing a crappy diaper in the middle of a store seem like the most normal thing in the world. This week Graham gave us all a lesson in self-love, sharing a video on social media of her beautiful stretch marks.
In the short clip posted to Instagram, Graham puts her fingers into a heart shape encompassing her stretch marks. "💛🧡❤️💚💙💜" she captioned it.
https://www.instagram.com/p/CFAh16XDMWn/
This isn't the first time Graham has inspired us to embrace our tiger stripes. In July, just six months after welcoming her son, Isaac, with husband Justin Erwin, she stripped down into one of her Swimsuits for All bikinis and showed off her post-pregnancy body in a series of photos taken by her husband.
She has also had no qualms about sharing pics of her stretch marks during her pregnancy and directly after.
"Same same but a little different," she captioned one of her most popular Instagram posts in August 2019, shortly after announcing she was expecting. She even spawned a viral movement which involved other women sharing photos of their baby bumps of various shapes and sizes.
"I just wanted to say thank you so much for posting all of your stretch mark pre-and-post pregnancy photos — whether you've had a baby or not it's truly inspiring," Graham said in a follow-up interview, explaining she decided to post the photo after a bad day."I thought, 'You know what, I'm just going to post this and I know there's another woman out there who's feeling the same way I'm feeling who might be going through kind of a rough day in how she looks and how her body is changing," she said.
Then, after her son was born, she shared an update.
"Same me. Few new stories," she captioned it.