Ashley Graham: 'Being OK With Who You Are Is a Revolutionary Act'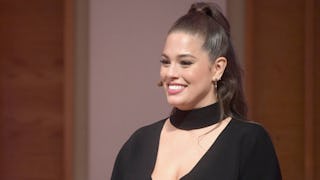 Image via Getty Images/Ben Gabbe
The model's speech at Glamour's International Day of the Girl is what we all need to hear right now
With a beauty that radiated not just from her physical appearance, but rather her heart and soul, Ashley Graham delivered a powerful speech to an audience of mostly young women on International Day of the Girl. It was inspiring, it was vulnerable. It is a must-watch.
At a Glamour event in New York City, Graham recounted some very relatable and heartbreaking experiences from her life. Moments where she felt less than and not good enough. Her words about rising from criticism and fighting self-doubt is what everyone needs to hear right now. Watch the Facebook video.
She told an all-too-familiar story about her first boyfriend at 16 years old breaking up with her after only three months. His reasons? One, she wasn't having sex with him. And two, "Because he said I was going to be as fat as his mom," she says. Can you believe that?
At the time, she admits that stung her deep. Now, obviously the queen of confidence could give two fucks about that twerpy loser. But she does wish she could go back in time and tell her younger self a few things: "If I could go back and talk to her I would say, first of all, Craig is a loser," she says. Um, yes honey, he is.
"Second of all, you is fine. And that bulge on your hip that he's talking about, not only is it fine it's going to change the world some day."
BOOM.
It was a powerful testament to how momentous her impact on the beauty industry has been, but also how we can instill this same confidence into our girls and change the world too. Her affirmations are strong and she's sharing them.
"The fashion world told me I'd never make it as a 'real' model, because of my curves," she tells the room. "Cut to: the covers of Glamour, Vogue, the Sports Illustrated Swimsuit Issue…and last year Mattel made a Barbie of me. With no thigh gap. And cellulite."
No doubt these are momentous accomplishments for the model in a society that has favored one body type for so long: thin. Graham confesses that for a long time she wasn't seeking her worth from healthy places.
"Honestly, the more attention that I got from men, the more that I thought I had value," Graham admits. "But it wasn't always the right kind of attention – and it always wasn't the right kind of man."
That was the truth bomb that hit me square in the head, because as a young woman I too felt like the more attention I got from men (unwanted and otherwise), the more worth I had. Especially as a teen girl. So if your metrics of self-worth depend on a man, what happens when they try to make you feel worthless? You will indeed, feel worthless.
The solution for us and for our girls to find confidence, is to find our happiness. "Happiness comes from doing what you love," Graham says and she's right.
Her wish is that girls could skip past the drama of self-doubt and worthlessness and get to a place where they love themselves, and demand the same in return. She says self-love "comes from accepting love from partners who believe in you, instead of partners who disrespect you."
She's spot on. When seeking partners in life we must find ones who are whole enough to make us feel whole. End of story.
All of what she said was clap-worthy, but the model ended with some unforgettable lines that you will feel in your bones they're so good. And so, so true.
"Whatever someone else thinks is wrong about you – whether it's your opinion or your body—is actually your superpower," Graham says.
"I'm not here to make you feel 'beautiful,' whatever that means," Graham continued. "I'm here to make you understand that true beauty is being OK with who you are. Being OK with who you are is a revolutionary act. And making someone else feel OK with who they are? That's downright heroic."