Ashley Graham Uses Instagram To Throw Shade At Victoria's Secret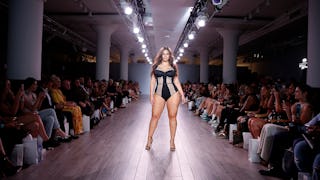 Image via Thomas Concordia/WireImage Style360
Graham used Photoshop to make a point about the retailer's limited size offerings
Victoria's Secret filmed their yearly holiday fashion show in Shanghai this week featuring their usual lineup of super famous (and super gorgeous) models donning lingerie and massive angel wings. One thing that wasn't featured is women of a more diverse range of sizes, as the retailer doesn't offer plus-size clothing.
And that fact is definitely not lost on model Ashley Graham.
Graham took to Instagram yesterday to share a stunning image of herself walking the runway for Addition Elle, a brand she both models for and collaborates with.
One important detail was added in thanks to the magic of Photoshop.
Graham captioned the image, "Got my wings! 🦋💐🌈😜 .. my #AdditionElle wings! #thickthighssavelives"
That they do, but you'd never know it from Victoria's Secret's sizing, which ends at an XL (size 16) for panties and a 40DDD for bras. The brand has come under fire in recent years for not offering more inclusive sizing, with a petition started encouraging them to be more diverse. Graham was throwing a clear jab at the lingerie and clothing retailer for not inviting plus-size models to walk during their popular holiday special.
Graham has been vocal in the past about her willingness to walk for the brand telling TMZ last year, "I mean, when Victoria's Secret calls me and asks me to be on their runway I'm gonna say yes."
We wish they would call Graham. Have you seen her?
Alas, they haven't, hence the fun photoshopped wings and cheeky caption. We're very much for here for Graham's not-so-subtle calling out of the retailer, because what the hell, Victoria's Secret? Plenty of women above a size 16 (and plenty of women with boobs larger than a 40DDD, which are nearly impossible to find unless you dig through to the very bottom drawer, TYVM) would love to wear their clothing.
And see a plus-size woman modeling it.
Because let's be real here — far more American women resemble Graham than the usual cadre of models with basically no body fat. Not that we're trying to shame them, they can stay, but can they walk alongside women with a more diverse range of proportions? Plus-size is the first step, but as a very short woman with a big chest, I would love to see a model who looks like me too. I have no waist, so I never feel like I look sexy in lingerie the way those tall, slim women do. What would be wrong with women of ALL shapes and sizes strutting down that runway, earning their wings?
We're not the only ones cheering for Graham and other models like her to make an appearance in the annual show. Twitter is also here for the idea of Graham and other plus-size women being included.
Hopefully, Victoria's Secret is paying attention to our pleas. If you'd like to tune in, the fashion show airs November 28 on CBS.
This article was originally published on