Ashley Graham Missed Last Year's Met Gala Since Fashion Designers Wouldn't Dress Her
by Jerriann Sullivan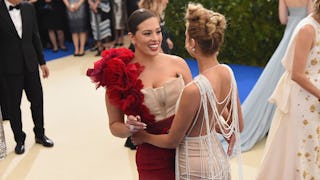 Image via Nicholas Hunt/Getty Images
"You can't just show up in jeans and a T-shirt."
Who doesn't love an epic party? Ashley Graham, the stunning supermodel and body-positive activist, certainly does. Sadly, she missed fashion's biggest bash, the Met Gala, last year because designers wouldn't dress her.
The annual soirée raises money for the Metropolitan Museum of Art's Costume Institute and is jam packed with celebrities dressed in some of the world's most beautiful clothing. Unfortunately, so many of those garments are made only in a size 0 or 2, which led to Graham missing the noteworthy event. "I couldn't get a designer to dress me," Graham told New York magazine. "You can't just show up in jeans and a T-shirt." The model ended up staying home instead.
Let's note how ridiculous it is that no designers have anything bigger than a size 2 on hand. The average American women is a size 16 and society has made curvy models a legitimate part of fashion culture so you'd think at least a few of them would have something to loan Graham. Plus, they literally make clothes for a living so it's not a shocking concept to create a dress in a larger size. Graham told reporters that she didn't have the right relationships with designers to ensure a custom gown could be made in time.
This isn't the only time Graham has had an issue securing clothes from designers. In January's British Vogue, editor Alexandra Shulman explained how hard it was to get designer duds for the model. Eventually, Shulman partnered with Coach for the clothes Graham wore for that shoot. "They were enthusiastic about dressing a woman who is not a standard model, but sadly there were other houses that flatly refused to lend us their clothes," Shulman explained.
Thankfully, this year has already been better to Graham. She attended the Met Gala dressed in a couture gown from H&M. We weren't the only ones to appreciate the use of red tulle or the bustier neckline. "Rihanna said I looked 'hot as fuck,'" Graham explained. "I had no idea what to say to her. I was just like, 'You slay every Met, Rihanna!'" Rihanna has become the queen of the Met Ball, but Graham is reminding the fashion world (and the rest of us) that beauty doesn't only come in a size 2.