Ashley Graham And Her Mom Pose Together In New Swimwear Campaign
by Jerriann Sullivan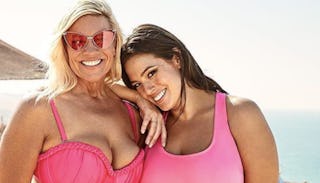 Image via Instagram/Ashley Graham
Graham's mom modeled for the Swimsuits for All photoshoot
To celebrate beauty at all ages, Ashley Graham brought her mom front and center for her latest Swimsuits for All campaign. The duo shot a series of gorgeous photos in Morocco to show off the new swimsuits. We're warning you; the pictures might make you consider your own mother/daughter photoshoot.
"What I want is for women my mother's age to feel empowered and to know that they too can look just as hot in a one-piece, a two-piece, or string bikini," Ashley told Vogue. "I believe that beauty is beyond, age, race, or size, and it's not a trend—at every stage of your life, you can feel beautiful." Hell yeah. That's a message we can get behind. This is Graham's fifth collection for the swimwear company, but the first time she's posed professionally with her mom, Linda Graham.
"Here I am at 53 years old and in a hot pink string bikini [on set], but I was kind of in love with that swimsuit!" Linda shared. Plus, it was a great chance to be a part of her daughter's world. "It was so comforting having her there, making me feel comfortable—it's funny how the tables have turned," Linda added.
And from the looks of all the photos and videos the Graham ladies shared on Instagram, they had the time of their lives. Who wouldn't? My mom made us matching bathing suits when I was a kid and I adored them. And we didn't even wear them anywhere exotic unless you count the local pool.
"I haven't worn a bikini since the 80s!" Linda said in a statement. "I don't think I could have uncovered that inner strength without Ashley. That makes being a part of this campaign so much more special – she's my rock and inspired me at age 53 to be proud of my body again after I lost my own fortitude."
It's clear from the photos that Ashley and her mom have a strong bond. The model talked about all the ways her mama has inspired her over the years: "My mom has been my role model since childhood and has played a vital role in developing my confidence. She promoted body positivity in our household before it was a movement. Her feel-good attitude toward her own body has shaped my ability to remain positive and self-assured."
The photoshoot also gave Ashley the chance to repay her for the lifetime of support her mom provided. ""[My mother] was with me from the start and helped me through all the trials and tribulations it took to get to this point, so being able to have her actually in front of the camera with me and modeling my designs felt like such a surreal moment," she said. "Plus, she's hot and looks incredible in the suits!"
The new collection is available online and features 13 pieces in sizes 4 to 22.