Ashley Graham Reminds Us To Bare Our Bods This Summer: 'It's Hot Out There and So Are You'
by Erica Gerald Mason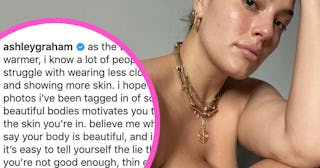 Ashley Graham/Instagram
The supermodel wants everyone to have a hot girl summer
It's that time of year again. Time for sandals, sundresses, and swimsuits. And for some, the internal struggle to rock a bikini-bod whilst enjoying the sun. Supermodel Ashley Graham is here to remind fans that they are beautiful, just the way they are (a notion Graham encourages often). It's almost like having your own fairy godmother whispering, "What are you, a nun? Let's undo two of those buttons and make that hair a smidge bigger."
On Monday, Graham posted a close-up pic of her thigh on Instagram to remind her followers that they already have the perfect bikini bod.
"As the weather gets warmer, I know a lot of people struggle with wearing less clothes and showing more skin," Graham began the post.
Graham's post also included photos of several woman posing for the camera. The diverse group of women, all in bikinis, highlighted their curves to kick off the summer season. The badass babes maintain eye contact with the camera as if to dare the viewer to call them anything other than beautiful.
"I hope these photos I've been tagged in of so many beautiful bodies motivates you to love the skin you're in," Graham wrote in the post. "Believe me when I say your body is beautiful, and I know it's easy to tell yourself the lie that you're not good enough, thin enough, sexy enough, 'flawless' enough to wear a tank top or a swimsuit, but it's hot out there and so are you."
"Don't let your mind stop you from enjoying your life to the fullest (and remember to say 'I love you' to yourself every day)!" wrote Graham.
In May, Graham took to the social media platform to express her appreciation for fans who took part in her challenge to express body positivity. Graham kicked off the challenge by different parts of her body. "Ok. The self-love challenge? Go," Graham began. "The strongest part of my body. The sexiest part of my body. My favorite part of my body. The most important part of my body. The part of my body I would never change." Graham encouraged fans to celebrate themselves by trying the challenge themselves. "Ok. Your turn."
"I'm not crying you're crying 😭 so many beautiful people have been using my sound on TikTok to celebrate their bodies," Graham posted on Instagram. "Take a second today to celebrate yours!"
Graham, who at this writing has just over 13 million Instagram followers, often acts like the cool best friend that hypes you up when you're feeling down.
"It's not always easy to love every inch of your body," Graham captioned an Instagram post in January (a time when most of us start making New Year's resolutions based on guilt and shame).
"I've learned it's a daily practice, not just a finish line. Seeing all your beauty and confidence in these inspires me more than you'll ever know and looking at them is one of my favorite parts of Instagram! ❤️ I'm just so grateful for this community. We are stronger together!"
Let the hot girl summer begin.