Pregnant Ashley Graham Shares Her Workout On Instagram: 'It's A Lifestyle'
by Sarah Bregel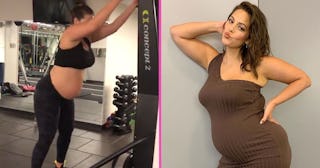 Ashley Graham/Instagram
Ashley Graham shows off her intense pregnancy workout and we're already sweating
Ashley Graham is one of the most gorgeous and down-to-earth celebrities out there. She's also known for being incredibly body-positive, which makes her beautiful both inside and out.
The plus-size model always shares the most gorgeous and inspirational pictures on Instagram. She's definitely been documenting her pregnancy, too, and she just gave us a look at what she's been up to in the gym during the last few months with a heart-pumping workout video.
https://www.instagram.com/p/B3DnIe-AJnQ/
In the video, Graham is clearly working hard, performing a squat while doing a cable pull. WHILE PREGNANT.
It may not seem that intense to those workout fiends of the world, but for those of us who spent pregnancy lying on the couch with crackers hanging out of our mouths and a bucket nearby, our lungs are burning just watching the short clip. Water, please.
This isn't the first time Graham has given us a glimpse of her fitness routine. She recently shared this gorgeous yoga pose on Instagram, too.
"Feeling that mama glow with @glowmaven," she wrote.
Obviously, Graham is focused on keeping healthy and keeping it real, like she always does.
https://www.instagram.com/p/B2H1oUoAumS/
She really seems to be enjoying her pregnancy and it barely seems to have slowed her down.
Well, maybe just a tad. She certainly deserves a well-earned vacay. It's really awesome to see the star thriving, glowing and being a badass mama-to-be. We know Graham is all about embracing her beauty by just feeling confident and loving herself. It seems even more clear than ever in the pregnancy shots she's been sharing.
If she has one message about bodies it seems to be: embrace, embrace, embrace.
Ashley is absolutely radiating joy. The motherhood vibes are already strong with this one. We can't wait to see the way she glows with that little bundle of joy in her arms, too.