Ashley Graham Announces She's Pregnant In Adorable TikTok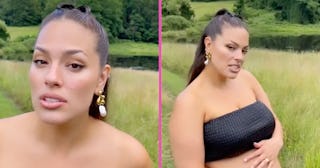 Ashley Graham/TikTok
Ashley Graham is expecting her second child!
Huge celebrity baby news coming at you this Tuesday morning. Model Ashley Graham just shared the happy news that she's expecting her second child with husband Justin Ervin. The pair are already parents to son Isaac, 18 months, and will now be the proud parents of "two under two."
Graham shared the big life update in an adorable TikTok video she posted this morning.
The announcement was low on details with Graham using an audio of Nicki Minaj talking about returning from a music-making break along with a video clip of her cradling her bump. We don't know a due date yet but the bump is definitely visible — and ridiculously gorgeous.
She also took to the 'Gram with a stunning photo taken by Ervin.
She writes, "the past year has been full of tiny surprises, big griefs, familiar beginnings and new stories. i'm just beginning to process and celebrate what this next chapter means for us."
More information about the new addition will probably be coming very shortly if Graham treats this pregnancy like her first one. Fans were treated to tons of details and updates on the model's pregnancy and postpartum experience including tons of posts about breastfeeding, stretch marks, prenatal and post-baby workouts, and more.
Graham has also been very vocal about loving her post-baby body, which is something every momma could stand to hear more about.
One thing we probably won't see is this new little one's face, as Graham has taken care to give Isaac his privacy, only sharing photos of him that avoid showing his face. That's totally cool, as it's up to every celeb parent how much they want to share with the public and Graham shares plenty of candid thoughts about her life with fans while also giving her son a more normal childhood out of the spotlight.
Hopefully parents can look forward to hearing Graham's wisdom on parenting two kids under age two, what it's like to welcome and love another baby into the family, and how to fit in self-care when busily caring for a toddler and infant. If anyone can make it all look doable, it's this absolute boss of a woman.