Ashley Graham Shows Off Her Cellulite To Let Women Know They're Sexy As Hell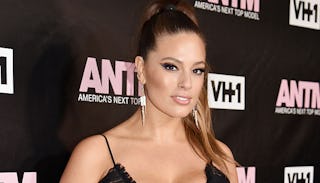 Image via Bryan Bedder/Getty Images
She shares her thigh dimples like they're no big deal — because they're not
No matter how many times we remind ourselves that bodily imperfections are normal, it's still hard to keep our chins up in the face of airbrushed celebrity perfection. That's why it's so appreciated when women like Ashley Graham keep it very real about the fact that literally no one is perfect.
Not even insanely hot supermodels.
Last year, Ashley Graham made history as the first "plus-size" model on the cover of Sports Illustrated. But let's get something out of the way, here — it's annoying to even call her plus-size, because she looks like this.
In addition to being fucking stunning, she's also incredibly honest and open about body image and body positivity. Graham recently made another dent in society's progress toward grasping the fact that all women have imperfections by sharing an image of her very normal cellulite while wearing a bikini on the beach.
Her caption reads, "I workout. I do my best to eat well. I love the skin I'm in. And I'm not ashamed of a few lumps, bumps or cellulite.. and you shouldn't be either."
Although brief, it's a rather effective mic drop about not giving a fuck when it comes to minor flaws no woman can help. There's simply no shame in cellulite, and it's awesome to hear it from someone as influential as Graham.
The best part is that it's not the first time the model has used social media to point out that she has some thigh dimples, and sadly, this is a revolutionary and noteworthy act in the age of Photoshop and unrealistic Instagram fitness accounts.
Um, yeah. You're doing just fine, Ashley. We wouldn't worry about a little cellulite if we were you, either.
And of course, we shouldn't worry about a little cellulite regardless, because all women are beautiful and sexy. Cellulite is one of those things it's easy to fixate on when it's our own bodies, but others don't notice nearly as much as we do. It doesn't make us less attractive and it's honestly no big deal, but mentally, every little positive affirmation helps, so we love Ashley Graham for reminding us that we're hot, leg dimples and all.
This article was originally published on