Don't Call Ashley Graham 'Plus-Sized' - Gorgeous Is Good Enough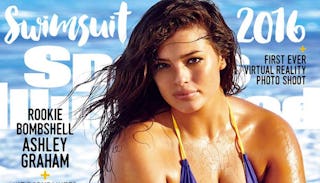 Sports Illustrated uses a 'plus-sized' model for the cover of their swimsuit issue for the first time, ever
Sports Illustrated put a curvy model on the cover of their annual swimsuit edition and everyone is acting like the magazine discovered a cure for cancer.
Gorgeous, size 16 Ashley Graham is gracing one of the three covers the magazine is debuting this year, and the internet is losing its damn mind.
Last year, Graham appeared in the campaign #curvesinbikinis for the company Bikinis For All. SI allowed the company to purchase ad space in the magazine for the annual swimsuit issue, and everyone freaked out. Bravo Sports Illustrated! Bravo! So Brave! They got endless kudos for simply allowing a woman that doesn't look like their usual mold to take up space in the coveted issue, even though she wasn't even one of the models they actually paid to be on their pages. Everyone loved the ad, so clearly SI decided to take a hint.
But this year wasn't the first year SI has included a "plus size" model in the issue. Last year the magazine used this model on their pages:
No, you don't need to get your eyes checked. She's a size 12. That's considered "plus sized" — another reason why we need to get rid of these stupid labels all together. They tested the waters with Robin Lawley. When the earth didn't spin off its axis with her inclusion in the issue, they decided maybe a plus size model on their cover wouldn't put an end to life as we know it. Thank God.
I don't mean to be a feminist killjoy — Graham is gorgeous and she should model that bikini-clad body everywhere. We don't see curvy women represented in swimsuit issues — it's understandable that everyone thinks this is a big moment for women. It's also just very depressing. Because we're still believing the hype that curvy women aren't the status quo. We actually accepted the hype that Lawley was the first "plus sized" model to grace the pages of SI, when anyone who isn't fucking crazy can see that there is nothing "plus sized" about her.
And as for even labeling women "plus sized" to begin with — who the hell even thought of that? The average woman in this country stands 5'4″ tall and is a size 14. Sports Illustrated Just Made History By Putting A Plus Size Model On Its Cover, writes The Huffington Post. Made history? No. They freaking opened their eyes. Graham is sexy as hell: conventionally sexy.
Here she is next to the two other cover models SI chose this year, Ronda Rousey and Hailey Clauson:
"The three covers of Hailey, Ronda and Ashley celebrate the new SI Swimsuit," said SI assistant managing editor MJ Day. "All three women are beautiful, sexy and strong. Beauty is not cookie cutter. Beauty is not 'one size fits all.' Beauty is all around us and that became especially obvious to me while shooting and editing this year's issue."
Duh. It doesn't take a genius to notice these women are beautiful. Just a person with eyes.
Graham did a TED talk last year in which she spoke about her road to body acceptance. She spoke about how the term "plus-sized model" made her feel like she didn't quite fit in to the fashion world, even though she had a wildly successful modeling career. "I felt free once I realized I was never going to fit the narrow mold society wanted me to fit in," she said. "The fashion industry might persist to label me as plus-sized, but I like to think of it as my-sized."
"I always hated answering that question: 'What do you do for a living?' I would see that person's eyebrow raise as I would reply: 'I'm a model!' I'd have to quickly qualify with: 'Well, I'm a plus size model.'"
Graham's spreading the good word of body positivity. I just wonder if body positive spokesperson is the label she wanted, or one that's been thrust upon her because we can't just let her be a damn model like her thinner counterparts. Whatever the reason, we can be glad she got there because she's spreading a message that needs to be heard.
"You know, people in the fashion industry actually told me that I would never be in magazines let alone the covers of them," Graham says."Well, I guess we've proven them wrong." I don't know if SI deserves an applause for finally realizing a wide range of women are beautiful, but Graham deserves a standing ovation.
This article was originally published on