Ashley Graham Is A Pregnant Goddess On The Cover Of Vogue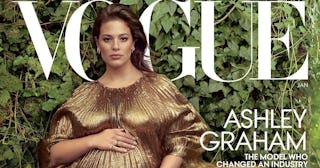 Instagram
Ashley Graham and her baby bump are the star of the show on this Vogue cover
Model Ashley Graham is currently expecting her first child — very very soon, in fact — and is celebrating this huge milestone in her life by gracing the cover of Vogue. And she looks like a literal beam of celestial light in her sparkling gown, cradling her bump in a way that says "maternal love" and also "high fashion." It's stunning.
Graham unveiled the January 2020 cover on social media — and what perfect timing, considering she's due in January. "A VOGUE COVER!!!" she captions the image of her cover. "Celebrating inclusivity, mothers, pregnancy and love — is so surreal."
"I have dreamed of this moment my entire career since I was a catalogue model living in Nebraska two decades ago," she says. She goes on to thank the magazine itself and Anna Wintour personally, applauding her for embracing a conversation around pregnancy and motherhood — not exactly in the typical Vogue wheelhouse. Which just makes this cover series even more special.
"The community and support I have discovered along the way has been incredible, and to share this monumental moment with my son and husband in the pages of Vogue could not feel more special," she concludes. "Annie Leibovitz, you made me feel like a true pregnant goddess."
Look how cute she is. We can't even stand it.
Graham first announced her pregnancy back in August, sharing an adorable video of herself alongside husband Justin Ervin.
Ever since, she's been sharing every major moment of her pregnancy with her followers, and her genuine joy is palpable. She's also been inspiring AF as a pregnant woman, embracing her body's changes and encouraging others to do the same.
She shared this gorgeous photo that shows not only her growing baby bump, but also her cellulite and stretch marks — which she claims she's always had, and they're nothing to feel shame about. Because we've all got 'em, right?
She's been fairly candid about her entire pregnancy journey, and even opened up to Vogue about it. Specifically about the rollercoaster of emotions she's experienced.
"I need my alone time, but when I do go out, I'm usually the life of the party. Now all anyone wants to talk to me about is being pregnant," she explains. "There's just this camaraderie. It's a secret society that I didn't know about. I was hiding my pregnancy for the first four months. I've always had control over my body—when everyone else wanted to dictate what it should be, I took full control over it—but I had this life inside of me saying, It's not yours anymore, it's mine. And you have to just succumb. And I felt like I didn't have anyone to talk to."
The isolation you can feel while pregnant is a precursor to how isolating new motherhood can be. Friends of yours who don't have children may inadvertently treat you differently than they did before, and suddenly because you're not drinking you're maybe not getting as many social invites as you once did. It doesn't feel great. So it's important that we keep talking about this, especially people with the platform Graham has.
She says her stylist encouraged her to put herself out there to make new friends, and that it helped her feel less lonely — perhaps we can all take a cue from her here! "I was gaining weight rapidly. And I felt alone," she tells Vogue. "And the one piece of advice that my stylist gave me was, 'Make pregnant friends.' None of my friends were in relationships, let alone pregnant. And now I have nine pregnant friends."
This article was originally published on