Ashley Graham's Western-Themed Maternity Shoot Is Too Cute
by Erica Gerald Mason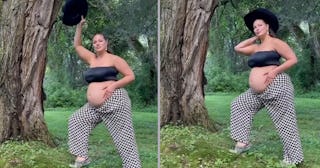 Ashley Graham/Instagram
Graham posted the adorable photos just days after announcing she's expecting her second child
Model Ashley Graham, a babe extraordinaire, showed off a cowboy look in pictures posted on her Instagram account on Friday. The mama-to-be stunned in a cowboy hat, a textured bandeau top, and checkered pants for her Western-themed maternity shoot.
"Giddy up, baby," she captioned the post, along with a cowboy hat emoji.
Graham announced she was expecting her second child with husband, filmmaker Justin Ervin, on Tuesday.
"The past year has been full of tiny surprises, big griefs, familiar beginnings and new stories," she captioned the photo. "I'm just beginning to process and celebrate what this next chapter means for us."
In February, Graham talked about the possibility of another child in an interview with the Wall Street Journal.
"I would get pregnant yesterday if I could," she said, adding that she's "'accidentally' had unprotected sex while I'm ovulating just to see if I can while I'm breastfeeding."
Their son, Isaac Menelik Giovanni Ervin, was born to Graham and Ervin in January 2020. Lil' Isaac was born at home in a birthing pool, and according to Oprah Daily, Graham's water broke during yoga.
"I have to say, now that I gave birth and I did it naturally and I felt everything, I feel like there's nothing I can't do," Graham said on her YouTube show, Pretty Big Deal. "There's nothing that could come my way where I say, 'Oh, that's too hard, I can't handle that.' I went through laboring for six hours naturally."
Graham shared that her husband's support helped her through labor and delivery.
"Seeing you with tears in your eyes saying 'I can see his head' gave me so much strength to just push him out and I really needed that," she said.
Graham has been open about her motherhood journey, posting a sweet video of the breastfeeding babe.
And on Friday, Ervin celebrated Graham's second pregnancy, writing on Instagram, "Felt so nice, we had to do it twice."
"I'm proud of the amazing mother @ashleygraham is and will be – again! Love you. Love us! All of us…," he added.
The feeling is mutual, as Graham posted a Father's Day tribute to her hubby on the 'gram.
"Isaac is so fortunate to have such a supportive, loving, compassionate, and incredible dad like you," Graham captioned the photo. "Getting to witness you be a father is the greatest gift."
Graham previously spoke to People about how motherhood has changed her life.
"I feel like I'm now a working-mom extraordinaire," she said. "I was very organized before, but now I'm even more organized — and when I say organized, I mean I have a Mary Poppins bag that has everything in it, including my breast pump that looks like a mini robot that comes with me."
In the interview, Graham admitted to breastfeeding Isaac all around the world — including an airport restaurant in Rome, on her way to Milan Fashion Week.