Ashley Graham Begs For Help Finding Workout Pants That Cover Her Bump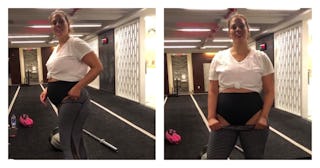 Ashley Graham/Instagram
Ashley Graham can't find yoga pants that won't slip off her bump and every pregnant woman has totally been there
Finding maternity clothes that actually fit is one of the major conundrums that most pregnant women face. While dresses and tops can be difficult enough, probably the biggest pain in the butt is locating the perfect pair of workout pants, especially when your bump starts to pop. Seriously. They are either too tight and cut into your bump or not tight enough and fall off. Ashley Graham is in the midst of this clothing crisis right now, and girl — we get it.
"Please send help! Need pregnancy workout pants that go above my belly and are durable! And I want fun colors!! I have plenty of black," she captioned an Instagram video.
Standing in a gym with her black undies pulled above her bump, the supermodel makes her plea."Pregnant women of the world," Graham begins. "I have not yet realized that I'm growing out of all my stretchy pants. What workout pants do you workout in?"
In the video, she pulls her workout pants down, showing off the fact that her pants don't even come close to covering her growing bump. "This is my underwear," she continues, explaining that it "hurts" when her leggings hit her belly in the wrong spot. "This is not okay," she says, also pointing out that wearing them down below her bump, where it actually feels "okay" makes her butt look weird.
As usual, so many followers responded to the sassy supermodel's plea, including maternity brands like Ingrid and Isabel, Lululemon, and Khloe Kardashian's clothing line Good American. Other fans offered their own suggestions and pointed out the obvious: that she probably has a crapload of free maternity workout pants coming her way.
Graham, or any of the other ladies in the house who are currently in the midst of their fashion crisis, we have totally been there. And because we are majorly feeling your pain, we have a few suggestions for you.
These Beyond Yoga leggings are available in a long and capri style. They are seriously durable and have super bump covering power — they literally go up to your boobs. You can buy the capri here and the longer style here.
This pair from maternity brand Ingrid & Isabel are pretty amazing too. They feature a crossover panel to keep your bump concealed.
Kindred Bravely makes a great maternity workout legging with a dual wear waistband. It can be folded down for extra support when you need it.
This pair from Cloya looks similar to the style that Graham is rocking on Instagram, but this one features an awesome high waistband and costs less than $30.
Happy shopping!
This article was originally published on