Ashley Graham's New Swimwear Ads Are All Untouched -- And Totally Stunning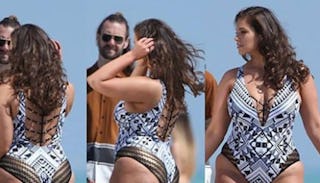 Image via Instagram/Ashley Graham
Ashley Graham just launched her summer 2018 swimwear
Summer is just around the corner, and that means sunscreen, sand that gets everywhere, and bathing suits. If you're looking for a new one this season, Ashley Graham released a new collection that she's showing the world with unedited photos. The untouched pictures were shot by the paparazzi for an ad campaign called "Power of Paparazzi."
"When shooting this campaign in Miami, the paparazzi began following us and taking pictures," the model told InStyle.com. "Looking at their photos sparked an idea, 'Why not use their photos as the campaign images?' These raw and unedited images would remind women that they are flawless in their own right and that they already have the perfect beach body!" Graham has made a name for herself as a model and body positivity spokesperson, so it's only fitting that her swimsuit lines and their ads reflect her personal philosophy. Check out the untouched pictures from Graham and Swimsuits For All.
Her swimsuit line is all about empowering women to feel comfortable in a bathing suit regardless of their size. Considering the average American woman is a size 16, it's no wonder her line is beloved.
"It's been an amazing journey and a true collaboration working with Swimsuits For All. ­ We work closely together on each collection with the goal of making all women feel confident in a swimsuit. The industry is making progress [towards inclusivity and body positivity]," Graham explained.
"There are brands making diversity and inclusion a priority, but there is still more than can be done. For example, it's still uncommon to find extended sizes in the luxury fashion market, which needs to change because the demand is there," she says.
Even though Graham is used to the paparazzi snapping pictures of her and posing in a bathing suit, she's acutely aware of the pressure society puts on women to look a certain way. "Of course it's daunting knowing the paparazzi may have captured an unflattering photo, but I remind myself that being authentic is beautiful, and I have nothing to hide when it comes to my body because I know it's changing people's lives," the model shared. "Shooting for Sports Illustrated definitely took me out of my comfort zone, from some of the swimsuit styles to the poses," she added. "At the end of the day, I hope these images remind everyone to embrace and love the skin that you're in. Be proud of your body, swim season is the time to show it off!"
This article was originally published on