Ashley Graham's Son Has Best Reaction To Seeing Her On TV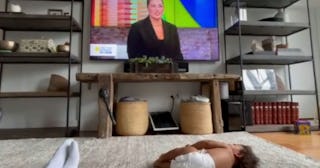 Instagram
Ashley Graham's son Isaac watched in awe as mom guest-hosted CBS This Morning
Hold on to your ovaries — the video below may result in a case of baby fever. Ashley Graham posted a totes adorable video of her one-year-old son Isaac watching and reacting as she guest-hosted CBS This Morning.
Graham's husband Justin Ervin appears to be the one who recorded their babe as the tot watched his mama kill it on national television.
Adorable Isaac looked comfy on the floor as viewers got a peek of Ervin's besocked feet as he recorded the footage. The sweet babe stared in awe at the TV screen as he reacted to seeing his mum. Ervin moved the phone back and forth from the TV to their son to gauge his sweet reaction.
"Isaac, look. Who's that?" Isaac pointed at the screen as he recognized his mom.
"Yeah, it's Mommy," Erwin told his son.
"Watching Isaac watch me guest host @cbsthismorning(!!) has me 😭," Graham wrote as a caption to the video.
Earlier this month, Graham posted a sweet pic of doing what every mama does on the sly: smelling her son's head. "I could sniff and sniff and sniff allllll day long," Graham captioned the photo. "But he won't let me!!😭😭😭"
Graham and her partner Ervin clearly dote on their son, with Graham posting a sweet pic of a father-son twinning moment.
Another Instagram post showed little Isaac happily playing with his toys. "Isaac's curls are poppin,'" Graham captioned the pic.
Graham often gives fans an honest look into how she manages it all. Last summer, Graham uploaded a picture of Isaac playing as she pumped breastmilk and checked emails.
"Breakfast of Champions 🍼," Graham captioned the pic. " Extra love to the multi-tasking mama's club today as I check emails and pump."
Graham also caused something of a social media stir when she posted pictures of her changing her son's diaper in the pen and pencil section of Staples.
Graham previously spoke with Harper's Bazaar about becoming a mum just before the pandemic. "Something interesting that I've learned about motherhood in relation to criticism is that, when you're pregnant, everyone's obsessed with you," Ashley Graham told the outlet. "But what happens when the baby comes, is that everybody has an opinion about how you parent — even though they told you, 'Don't take advice from anybody.'"
It's something Graham remembers when talking to other mamas. "I always say, 'Do you want the advice?' before [I say anything else]," Graham told E! News.
It's important to Graham that she not add to a new mama's stress in those early years. "There's just so much unsolicited advice that you get when you're pregnant…You feel bombarded by it a bit," said Graham. "So I think the best thing to do when talking to anyone who's pregnant or has just had a baby is, like, make sure they want the advice before you give it."
Graham went on to explain how she's adjusted to motherhood during the shutdown. "The biggest lesson that I've learned as a new mommy in quarantine is flexibility," Graham said. "How to roll with the punches and how to really find joy every single day."