Ashley Judd Is Suing Harvey Weinstein For Damaging Her Career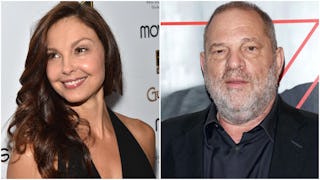 Image via Theo Wargo/Getty/Jim Spellman/Getty
Ashley Judd is suing Harvey Weinstein for defamation, sexual harassment, and interfering with her livelihood
Ashley Judd is taking Harvey Weinstein to court. The actress is suing the disgraced producer over allegations that he hurt her career after she rejected his sexual advances. Any money won from the case will go straight to Time's Up, a legal defense fund that helps women who have been sexually harassed or abused.
Last October, Judd stepped forward and told The New York Times that Weinstein once invited her to his hotel room, asked to give her a massage and then requested that she watch him take a shower. When she declined, the producer allegedly decided to blacklist the actress. Judd and Mira Sorvino — who also accused Weinstein of sexual harassment — were both up for roles in Lord of the Rings, but mysteriously ended up losing out on the parts. Well, turns out, it wasn't all that mysterious.
Director Peter Jackson told Stuff that he was fed lies about the actresses, which made him cross them off the casting list.
"I recall Miramax telling us they were a nightmare to work with and we should avoid them at all costs," he said. "At the time, we had no reason to question what these guys were telling us – but in hindsight, I realise that this was very likely the Miramax smear campaign in full swing."
Now, Judd is hitting back. She took to Twitter to explain that she's suing Weinstein because of the "damage done to [her] career as a result of sexual harassment."
This isn't just about her, though. Judd is suing Weinstein on behalf of all the women who were blacklisted by the producer.
"Mr. Weinstein's abusive conduct toward others has caused no end of damage to aspiring actors and others in the film and entertainment industry," she said in a statement. "As my experience and the experience of others shows, even a few false statements from Mr. Weinstein could destroy potentially career-changing professional opportunities. It's time that Mr. Weinstein be held accountable for that conduct and for the ways in which he's damaged careers."
Weinstein is completely denying that he had a hand in hurting her career. "The most basic investigation of the facts will reveal that Mr. Weinstein neither defamed Ms. Judd nor ever interfered with Ms. Judd's career, and instead not only championed her work but also repeatedly approved her casting for two of his movies over the next decade," the producer's spokesperson said.
We'll have to wait and see what happens in court (hopefully Jackson takes to the witness stand). In the meantime, Judd is receiving an outpouring of support from the women who gave voice to the Time's Up movement.
All that love and encouragement has meant the world to Judd.
She tweeted: "For every woman and man who smiles at me…thanks me.. says they support me…says "good for you"….says "my daughter looks up to you"…gives me encouragement.. prays for me…says "I'm with you"….who says #metoo…shakes my hand…hugs me…this smile is for you. Thank you."