Ashton Kutcher On Immigration Ban: "We Have Never Been A Nation Built On Fear"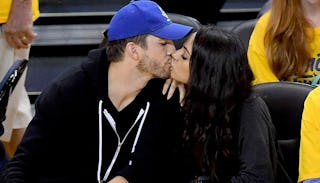 Photo by Thearon W. Henderson/Getty Images.
"We have never been a country built on fear"
Ashton Kutcher is just one of the many celebrities who is speaking out against Donald Trump's immigration ban that targets Muslim countries. "My wife came to this country on a refugee visa in the middle of the Cold War," the actor tweeted. "My blood is boiling right now!"
While his wife, Mila Kunis, doesn't use social media, Kutcher shared her story online this week. The actress was born in Soviet Ukraine and came to the United States during the Cold War on a refugee via when she was a little girl. While Trump was campaigning last year, Kunis shared her opinion of his hateful rhetoric: "The whole Syrian-refugee thing—we came here on a religious-refugee visa, and I'm not going to blow this country up. I'm clearly paying taxes. I'm not taking anything away." She told Glamour, "So the fact that people look at what's happening and are like, "Pfft, they're going to blow sh-t up"? It saddens me how much fear we've instilled in ourselves."
Kutcher also commented on letting fear dictate national policy.
Actors, former presidents, and current members of the same political party have spoken out against Trump's ban. In the days following his executive order, the world has watched as families were torn apart. A family who was traveling to America for a life-saving surgery for their baby girl was denied entry because of the ban. A mom and her breastfeeding child were separated for hours at an airport because of it.
The actor remained committed to calling out the policy online.
The actor also commented on the ban and the people stranded in airports during Sunday night's SAG Awards, which he hosted. "Good evening, fellow SAG-AFTRA members and everyone at home. And everyone in airports that belong in my America," Kutcher said. "You are a part of the fabric of who we are, and we love you and we welcome you."
This article was originally published on