Asia Argento Paid Off Sexual Assault Accuser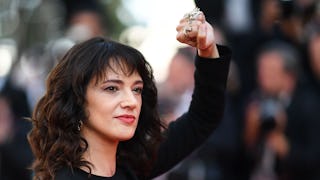 Image via LOIC VENANCE/AFP/Getty Images
In the months after accusing Harvey Weinstein of sexual assault, Asia Argento paid off a sexual assault accuser
In an explosive New York Times piece, actress Asia Argento is revealed to have paid off an actor who accused her of sexually assaulting him when he was only 17 years old. The Times says Argento quietly agreed to pay him $380,000 in the months following her accusations against disgraced Hollywood mogul Harvey Weinstein.
Actor and musician Jimmy Bennett, now 22, says Argento had sex with him in a California hotel room just two months past his 17th birthday. She was 37 at the time. California's age of consent is 18.
Bennett once played Argento's son in a movie, which is how they met. Documents sent to the Times to confirm Bennett's claims include an encrypted email by an unidentified party and a photo of the pair lying in bed. The photo is a selfie and dated May 9, 2013. As part of the agreement, Argento was given the photo and its copyright.
Argento's lawyer, Carrie Goldberg, wrote a letter to her confirming the details of the pay-off. She called the money something that would "help" Bennett and told Argento, "We hope nothing like this ever happens to you again. You are a powerful and inspiring creator and it is a miserable condition of life that you live among shitty individuals who've preyed on both your strengths and your weaknesses."
Bennett's lawyer sent an intent to sue notice to Argento last November saying that the fallout from the 2013 incident hindered his ability to make money. He made $2.7 million in the five years before 2013 and afterward, averaged $60,000. Bennett was just seven years old when cast in a film Argento directed and starred in — as his mother.
In the film, "The Heart Is Deceitful Above All Things," Argento plays a drug-addicted prostitute who dresses her son as a girl to lure men. Bennett's character is raped during the film.
On May 9th, the day Argento sexually assaulted Bennett, she posted on Instagram about their "reunion.
https://www.instagram.com/p/ZGgF37IwxH/?utm_source=ig_embed&utm_campaign=embed_loading_state_control
"Waiting for my long lost son my love @jimmymbennett in trepidation #marinadelrey smoking cigarettes like there was no next week," she wrote.
According to his own account of the day, Bennett arrived at the hotel with a family member as an eye condition prevents him from being able to drive. After he got there, Argento asked the family member to leave. She fed Bennett drinks and gave him notes she had written for him on hotel stationary. She then kissed him and pushed him on the bed and performed oral sex. They had intercourse afterward and then Argento had him pose for a series of photos.
He was 17. She was 37.
https://www.instagram.com/p/ZGpU0_Iw_6/?utm_source=ig_embed&utm_campaign=embed_loading_state_control
They had lunch together and then Bennett headed to the home where he lived with his parents. He says he felt "extremely confused, mortified, and disgusted."
Argento was one of the first women to publicly accuse Harvey Weinstein of sexual assault and has been a vocal advocate for the #MeToo movement. Her accusations, grossly enough, include Weinstein forcibly performing oral sex on her in 1997 at the Cannes Festival, which she referred to as his "hunting ground" for victims. She was 21 years old.
Now, there are some criticizing the #MeToo movement and using the allegations against Argento to discredit it — which is wrong in every way. She was sexually assaulted by a man and spoke out against him. She was accused of sexually assaulting someone else. Both of those things can be true at the same time and in no way does her being an attacker herself negate what she went through — or what any other women who's spoken out has been through.
What happened to Bennett was terrible. What happened to Argento at the hands of Weinstein was also terrible. These things are both true at the same time and the fact that a woman who was once the victim of a powerful man went on to use her own power over a young and vulnerable boy doesn't invalidate her prior trauma — or any other woman who came out against their abusers in the wake of the #MeToo movement.