11 Asian American Women Activists You Need To Know
by Virginia Duan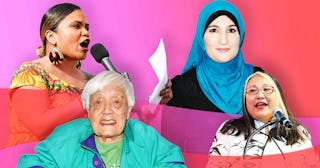 Kelly Sullivan/Tibrina Hobson/Amanda Edwards/WireImage/ Monica Schipper/Getty
When we think of social activists, we don't usually think of Asian American women, transgender, and gender nonconforming folks — and that's a shame. I fully admit that until I actively went out of my way to research and learn about Asian and Asian Pacific Islander Desi American (APIDA) history and theology, I didn't know of any, either. I thought activism was for Black and Brown people — not us Asians.
I was totally wrong.
In honor of all the BAMFs past and present doing the thing, here are 11 Asian American women allies and activists to inspire us and our kids just in time for International Women's Day.
Grace Lee Boggs
After getting her Ph.D. in 1940, Chinese American activist Grace Lee Boggs was unable to get a position in academics because of her race and gender. The author and philosopher later moved to Chicago to work a low paying job at a philosophy library. It was in Chicago where Boggs encountered the African American community for the first time, and as a result from her work in tenant's rights activism, she eventually focused on the struggles of the African-American community, making it her life's work.
Yuri Kochiyama
In her twenties, Japanese American civil rights activist Yuri Kochiyama was forcibly relocated to incarceration camps along with her family and over 120,000 Japanese Americans. After World War II, she and her husband (who she met at the Jerome, Ala. incarceration camp) moved to New York City where she held activist open house meetings every week in the apartment she shared with her six kids. Kochiyama was a huge advocate for civil rights for all marginalized communities, reparations to the Japanese American community, and demanded a formal apology via the Civil Liberties Acta. Later in life, she actively opposed racial profiling against Muslims, Middle Easterners, and South Asians in the U.S.
Sonalee Rashatwar
Sonalee Rashatwar is an award-winning community organizer, social worker, sex therapist, and adjunct lecturer. As a worldwide anti-oppression educator on topics such as decolonizing sexuality, fat-positive wellness, and disability justice, she also co-owns the Radical Therapy Center in Philadelphia, where Rashatwar incorporates her experiences of being a fat, bisexual, nonbinary Indian American domestic violence survivor.
Thenmozhi Soundararajan
Dalit transmedia artist, filmmaker, and activist Thenmozhi Soundararajan is the current executive director of Equality Labs, an organization fighting caste apartheid, Islamophobia, white supremacy, and religious intolerance. She's also the executive director of Third World Majority and the co-founder of Media Justice Network. Soundararajan speaks out against casteism within the Indian diaspora and some of her work examines caste discrimination in American campuses, offices, and households.
Hinaleimoana Wong-Kalu
Community leader, filmmaker, and founder of the Kulia Na Mamo transgender health project, Hinaleimoana Wong-Kalu is a Native Hawaiian transgender woman and māhū, which in Hawaiian culture is a person who embodies a third gender between male and female and considered a source of ancient wisdom. Also known as Kumu Hina, she advocated for marriage equality two years before the U.S. Supreme Court legalized same-sex marriage, reminding Native Hawaiians of how queerness was celebrated in their cultural heritage, and became one of the first out transgendered candidates for a statewide political office.
Shakira Sison
Shakira Sison is a multi-award-winning Filipina-American lesbian author, essayist, and poet. For her essays on gender and LGBTQIA+ advocacy, she was the 2014 winner of the Hildegarde Award for Women in Media and Communication as well as one of Manila Bulletin's 15 Women of 2015. Currently working in the financial industry, she also writes a weekly column for Rappler.com on gender issues, culture, politics, and immigration.
Terisa Siagatonu
Award-winning queer Samaon American poet and community leader Terisa Siagatonu has performed keynotes and lead workshops for the more than 10 years. As the 2012 recipient of President Obama's Champion of Change Award for her activism in the Pacific Islander community, Siagatonu's work includes advocating for Pacific Islander/Indigenous rights, LGBTQIA+ rights, education, youth, and climate change.
Linda Sarsour
Former executive director of the Arab American Association of New York, Linda Sarsour is a Palestinian Muslim American racial justice and civil rights activist. Co-founder of MPOWER Change, the first and largest digital Muslim organizing platform, this mother of three first became known for protesting the police surveillance of American Muslims. She has since added civil rights issues such as Black Lives Matter, immigration policy, feminism, mass incarceration, and police brutality.
Helen Zia
Award-winning Chinese American activist, author, and former journalist Helen Zia is one of the key figures in the Asian American movement. A staunch advocate for human rights, women's rights, and LGBTQIA+ rights, Zia played a crucial role in mobilizing the Asian American community — which was neither cohesive nor organized at this point in time — to demand justice in the wake of Vincent Chin's murder in 1982. Zia is the former executive editor of "Ms. Magazine," founding board co-chair of Women's Media Center, and active in non-profit organizations such as AAJA, KQED, and Equality Now.
Cecilia Chung
As a transgender rights activist for more than 20 years, Chinese American Cecilia Chung is a civil rights leader and LGBTQIA+ rights and health activist. Chung addresses the discrimination, stigma, and violence experienced by marginalized communities and as a transgender woman openly living with HIV, she also combats the systematic inequalities which lead to the high rates of HIV/AIDS in the transgender community. She is both the first transgender woman and first Asian elected to head the San Francisco LGBT Pride Celebration Board of Directors, and the first person and transgender woman living openly with HIV to chair the San Francisco Human Rights Commission.
Bo Thao-Urabe
Hmong American activist, social entrepreneur and leader Bo Thao-Urabe the executive and network director of the Coalition of Asian American Leaders (CAAL) in Minnesota and a member of the President's White House Initiative on Asian Americans and Pacific Islanders under the Obama Administration. Her experience of resettling in the U.S. after fleeing to Thailand from Laos in the wake of the Vietnam War has informed her advocacy for gender equity, leading her to found Building Our Future, a community organization which works to build Hmong families free from violence.