Why Parents Need To Ask This Question Before Playdates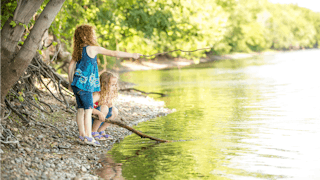 emholk/Getty
I am a laid back mom. My threshold for noise and chaos is remarkably high and it takes a lot to phase me. While we abide by core principles of safety like car seats and helmets and don't have any guns or play with fireworks or stuff marshmallows in our mouths, my boys have bled enough to merit a trip to the ER (and recover). I don't want them to get hurt, but I just don't have the energy to helicopter. To be fair, I barely have the energy to play helicopter, so maybe I just embrace "fun mom" mode by letting be what will be. Injuries, for us, are mostly met with a few carefully placed kisses and ice packs and I can happily check off my responsibility box each night.
That is, until I assisted in the rescue of a 13-year-old girl while her friend tragically drowned on a Chicago beach. That night, I was reduced to a spectator in the painful battle between hope and time when a child submerged and time won. It felt different than my days working on the ambulance because, on that terrible evening, my kids were present to watch how powerless mommy was to make anything better.
I felt like I had no choice; I became a drowning prevention advocate and developed a close friendship with Nicole Hughes who lost her three-year-old son, Levi, to drowning while on vacation June 10th, 2018 and went viral with her painfully candid letter to the AAP. Why didn't she know before June 10th that drowning was the leading cause of death for children under five? Why didn't she know nearly 70% of drownings happen during non-swimming times and that most families saw their child alive within five minutes of finding them in the water?
Like the rest of the world, I read through tears in complete awe that I didn't know either. Holding my two toddlers close, I immersed myself in the drowning prevention world. I thought I knew everything there was to know about toddler drownings. My kids might crack their head open climbing something they shouldn't, but they weren't going to drown.
And then, I got a picture text that would slap me off my high-horse and remind me that I can't protect my kids alone. I have to share what I've learned because there, on my phone, was my 20-month-old playing at his sitter's neighbor's house, innocuous enough, but in the background was a pond. I knew they visited this home. I didn't know there was a pond.
A pond, in the drowning world, is like a butcher knife: shiny enough to catch your child's attention, but likely not on your radar…or at least not on my laid-back-mom radar. But now, I was the "Water Safety Mom!" How did I not know?
Well, for one, I didn't ask. I did ask about guns (point one for a diligent-mom who reads all the hot parenting articles and takes action). But, I didn't ask about water, let alone the layers of protection when my kid would be around it. And I knew that it is 100 times more likely for a child to drown than be shot. Asking about guns is the first step, the warm-up, but then you just have to ask about water, too, because drowning is the real deal, the sleeping lion, the leading cause of accidental death.
So here's the new hot topic, mamas, listen up and pass it around: Ask about water before allowing your kid on a play date.
Here's what you need to know, and also what whoever is watching your kids need to know:
1. A kid under thirty pounds can drown in less than thirty seconds–and never come back.
We don't need to relinquish our laid-back mom titles, but if we can't helicopter without even a thirty-second lapse, then we MUST have layers of protection wherever there is water: ponds, pools, toilets, creeks, ditches, lakes, etc.
2. Check the water first.
Remember, drowning is silent–no screams, no splashes; so if you lose sight of your child, run to the water. You can laugh later if you looked silly racing to the sliding door when he was just sneaking a cookie in the kitchen, but you will never laugh the same if you sauntered around the house calling his name and he was never able to answer back.
3. Four-sided fences separating water from the house and yard reduce the rates of drowning by 88%.
Put them up–now. That sleeping lion can wake at any minute. Real people's kids drown; install the fence and make sure it has a self-latching gate.
4. Designate a water watcher.
If you are around water or swimming, keep hands-on touch supervision with a designated water watcher whose sole responsibility is making sure no child drowns.
5. Learn CPR.
Drowning is an injury where mortality and morbidity depend almost entirely on how long the victim is in the water and how long before CPR is initiated. Hospitals are extremely limited in reversing brain damage after oxygen deprivation.
As crass as it sounds, every time kids are around water and don't drown, our subconscious writes a narrative that drowning can't happen to us; we start to let our guard down. But the fact is, water is everywhere and it is always a threat. Want proof of the power of the drowning-can't-happen-to-me mentality? There is a drowning season.
Let that sink in: there is a season for a preventable death. We know when it is going to happen and where it's going to happen. We know who is most likely to be the victim. Drowning is a leading cause of death for children. For kids between 1 and 14, drowning is the second leading cause of death. Adolescents between 15 to 24 years of age have among the highest rate of drowning, which usually occurs in open water, with 80% of victims male. Yet, even with the World Health Organization naming drowning a neglected public health issue in 2014, the statistics haven't changed.
It's our time, mamas, time to band together. If you buckle your kids in the car and lock up guns in a safe, you've got to open your eyes to the greatest threat of all: water. And heck, what good is it to open our eyes if we don't open our mouths? When you go on a playdate, ask about water and share what you know.
You can start with, "I'm not sure how to approach this, but I read an article and I just have to ask, "What bodies of water are near where you'll be taking my child? What are the layers of protection? Did you know…'" I hereby grant all readers the freedom to not be judgy or judged when you ask about water–you are, in fact, the heroes and your time is now. Drowning isn't curable, but it is preventable. Let's do this.
What water is near you?
This article was originally published on