Ask Scary Mommy: I Have No Idea How To Homeschool My Kids -- Please Help!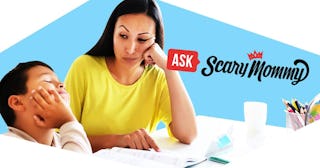 Scary Mommy and PredragImages/Getty
Ask Scary Mommy is Scary Mommy's new advice column, where our team of "experts" answers all the questions you have about life, love, body image, friends, parenting, and anything else that's confusing you.
What do you do when, due to a global pandemic, you're suddenly handed a new job role – that of homeschool teacher? What if you have no idea how to teach your kids, and your kids are not pleased with their new teacher? Have your own questions? Email advice@scarymommy.com
Dear Scary Mommy,
My kids' school closed two weeks ago and I'm in the midst of homeschooling hell. I have no idea what I'm doing. I don't know how to teach third grade math, and my kids don't want to listen to me teach. Within 20 minutes, we're all screaming or crying or both. Help! Can you give me a crash course in homeschooling?
Oh, friend, I feel you. I really feel you. Not only are we dealing with the stress of a global pandemic, stuck inside with our family, worried about the health of friends and family, and possibly dealing with lost income, now we're expected to homeschool our kids too. What kind of cruel joke is this?
But alas, this is our life for a while now. We're in this.
The bad news is you have a new job you didn't want and you've had little to no training for that job. It's like that recurring nightmare when we realize on the day of our college final exam that we missed every single class. We want to panic, but there's no time because the clock is ticking and the number 2 pencil is in our hand. Shit.
Not only we were not trained for this, but we don't want it, and many of us aren't all that good at it. I, for one, am the world's most impatient teacher ever. In fact, back in high school, I may or may not have thrown a pencil across the room in frustration while trying to help a guy I was dating with math. Not my finest moment.
So, here we are…homeschooling our kids for the foreseeable future. The good news is that homeschooling doesn't need to look like the 6.5-7 hour school day that your kids are used to. Most homeschoolers will tell you that you typically only need a couple hours a day (even less for the youngest kids) to get it all done.
The other good news is that homeschooling does offer a lot of flexibility. Your kids can learn about what they want to learn about in a way that works for them. Of course, you'll need to comply with the e-learning requirements that your kids' school provides, but aside from that, you can learn (and teach) in ways that work for your family. School can happen where and when you want it because learning happens all the time. So you can practice math facts while baking cookies. You can get your reading/writing lesson in by writing silly haikus. You can learn about science by digging for worms or playing in the rain.
After a couple weeks of catching our breath, our family is trying to settle into a routine (key word trying because there's still a fair amount of whining, yelling, and crying going on, but it's getting better). For us, that looks a little like this: regular chores, school-mandated activities (which takes much less time than you'd think), ten minutes of writing in a journal (kids can write about how much quarantine sucks), 30 minutes of reading (whatever the hell they want to read – comics, Big Nate, sports magazines, whatever), 20 minutes of reading a book as a family (we're reading Trevor Noah's book, Born a Crime), and researching a topic of your choice (my youngest is researching the history of the NBA, for instance.) Granted my kids are a little older (4th and 7th grades), so I understand that younger kids might need a little more active involvement from parents, but the bottom line is this: school can look how you want it to look, not like you're told it should look.
But don't take my word for it; take the advice of teachers and RELAX.
As high school teacher Lily Read wrote on Facebook, "You are alright. Your child is too. And whether or not they learn improper fractions does not matter — let them know they are OK. Help them feel safe. Create what works for your family and forgive yourself for the mistakes you make, your children's schools make — and don't worry about their formal education — they will be OK."
So even if homeschooling didn't happen for the next few months, your kid would still learn. It is impossible not to learn during this life-changing time. They'll about conflict resolution. They'll learn about the importance of self-care. They'll learn about what it means to come together in a time of crisis. The math and science and reading will come. Eventually. They'll adjust and catch up and get back on track, and so will we.
So deep breath, parents. We've got this.
This article was originally published on