These Are The Best Things To Do In Aspen When It's Not Winter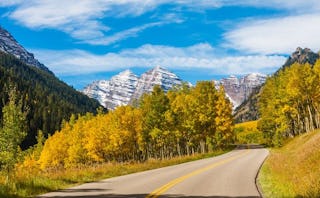 If I could name one town in my home state of Colorado that exemplifies luxury, it would be Aspen. Often perceived as a pretentious playground for billionaires, and high-voltage celebrities like Leonardo DiCaprio and Mariah Carey, it would seem this upscale mountain town would have little room for commoners like us. Aspen, Colorado is actually one of the best destination for families!
But the truth is that it's every bit as welcoming, charming and dog-friendly as any of my family's other favorite local ski areas like Copper Mountain and Steamboat Springs, even to those of us who are neither rich nor famous.
In fact, my two boys love it so much that it's become our family's new fall-foliage favorite. Here are ten reasons you, too, should experience Aspen with kids in the fall…
BEST RESORT IN ASPEN, COLORADO
The St. Regis Aspen Resort. Honestly, I'm not one to get too excited over hotels, especially fancy ones. But sometimes a girl's gotta splurge, and staying at the St. Regis Aspen Resort is a worthy occasion.
Not only was it exceptional for what you'd expect from this storied institution—stellar service, including access to personal butlers, and deluxe amenities—but also for what I didn't expect: a kid-friendly philosophy.The hotel's outdoor pool—perched slope-side for prime mountain view—was stocked for kids with toy noodles and beach balls. And my boys loved the idea of roasting s'mores each night at the nearby outdoor fire pits.
Another of the hotel's kid-friendly amenities? Its newest restaurant, Trecento Quindici Decano, offers delicious Italian food with many options for younger palettes.
But my boys won't remember any of that. Instead they'll only recall receiving a pre-dinner tray of raw cookie dough and an assortment of trimmings, including sprinkles and chocolate, which they artfully "smooshed" together and ate as a baked masterpiece at meal's end.
BEST ATTRACTION IN ASPEN, COLORADO
Maroon Bells. Reputed to be the most photographed in all of Colorado—some allege in all of North America—this scenic area is a year-round draw for visitors. Located about 12 miles southwest of Aspen, it's no wonder that these two red-hued "bells"—North and South Maroon Peaks, both fourteeners—are the place for viewing Aspen's legendary fall-color splendor, made all the more spectacular by its reflection in Maroon Lake.
Whether meandering on the Maroon Lake Scenic Trail or biking through miles of trails in the White River National Forest, a visit to these iconic peaks should be at the top of your list. Motorized vehicles are restricted in the summer months and through weekends in September. For information on bus tours, hikes and more, go here.
BEST OFF-SEASON OUTDOOR ACTIVITIES IN ASPEN, COLORADO
The Rio Grande Trail. Aspen offers what I believe is essential to any family-friendly town: a trail system, perfect for a bike ride or walk. A combination of asphalt, concrete and gravel, the Rio Grande Trail runs approximately 42 miles from Aspen to Glenwood Springs along the former route of the Denver and Rio Grande Western Railroad.
Allowing stunning views of the Roaring Fork River and golden aspen trees, the trail is also open to inline skaters, horseback riders and, in the winter months, cross-country skiers.
Bike Butlers. Traveling too far to haul your own bikes? Let them come to you via Bike Butlers, a local company that delivers as many as you need (and helmets) to your chosen destination—be it a hotel or trailhead—and picks up your equipment once you're done riding.
Need an easy ride? Pedal 15 miles downstream to famed Woody Creek Tavern, where you can sip a few beers before the Butlers shuttle you back to Aspen.
Gondola Views. It's a no-brainer to ride the Silver Queen Gondola to the 11,212-foot summit of Aspen Mountain. A nearly 20-minute ride and more than 3,000-foot ascent to the top, visitors are rewarded with panoramic views of autumnal grandeur amid the Elk Mountain Range.
Head up for a picnic lunch or hike, or soak in some rays at the Sundeck Restaurant. Gondola rides are available for fall viewing on weekends– September through the first week of October.
Independence Pass. Arguably the best viewpoint for fall color, its 12,095-foot elevation designates Independence Pass as the highest paved crossing of the Continental Divide in the U.S. Offering sweeping views of the Roaring Fork Valley and a scenic overlook for glimpses of Colorado's highest peak, Mt. Elbert, thousands of visitors traverse this road from May until it closes in the fall.
Ever wanted to try rock climbing? While there's plenty of opportunity here for hiking and wildlife viewing, the Pass is also a mecca for rock-climbing enthusiasts, offering everything from beginning bouldering to expert routes.
Lofty Views. If gondola rides or scenic drives aren't thrilling enough for you, try aerial views instead. Experience the mountains at new heights with a paragliding adventure from the top of Aspen Mountain through Aspen Paragliding. Too risky for your taste? Opt for a more leisurely leaf-peeping excursion on a sunset, hot-air balloon ride with Above it All Balloon Company.
Aspen Outfitting Company. The St. Regis' in-house outfitter, Aspen Outfitting Company boasts exclusive leases on the area's largest selection of private water. For my inaugural fly-fishing trip, that was a private site along Aspen's Roaring Fork River. As guide Karl Page relayed the basics of flies and casting, I couldn't help but ask: Why choose fly-fishing if you always release the fish? "It's not just about the catch, although that can be addictive," he says. "It's warm, it's beautiful, and there's no one here. I do this for the quiet, for the solitude of the river. You feel like you're a million miles away."
Another fantastic family experience: fishing with a guide for rainbow trout in a nearby, private pond. The outfitter also provides clay-target shooting, pistol shooting and bird-hunting trips with world-class instructors.
BEST RESTAURANT IN ASPEN, COLORADO
Ajax Tavern. If you've worked up an appetite after the gondola ride, head to the base toward Ajax Tavern, The Little Nell's slope-side eatery. If you're really hungry, try the restaurant's signature Double-Double, featuring "double" the amount of burger and cheese, along with truffle fries. Or simply drink a beer and people-watch from the Tavern's sunny patio.
BEST FESTIVAL IN ASPEN, COLORADO
The Aspen Film Festival. Our fall-foliage bonus was visiting during the town's annual film festival, Aspen Filmfest. Timed purposefully around the local explosion of fall color, the festival focuses on high-quality, American-independent films that you may not get to see otherwise.
"I think its appeal is that it's in a spectacular setting, but there's also an intimacy to the experience that carries over to our audience-oriented festivals," says Laura Thielen, Aspen Film co-director.
More: These Are The Best Things To Do In NYC With Your Entire Family
This article was originally published on