New Zealand Bans Assault Rifles Just Days After Horrific Mass Shooting
by Thea Glassman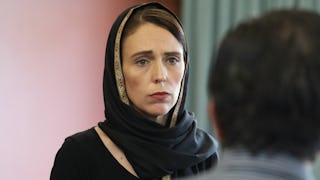 Image via Handout/Getty Images
The Prime Minister of New Zealand announced a ban on assault rifles following massacre
Last week, a gunman charged into two mosques in Christchurch, New Zealand and murdered fifty people while injuring dozens more. New Zealand's Prime Minister Jacinda Ardern isn't wasting any time in responding meaningfully to this horrific act of terror and has announced that all assault weapons will be banned. That's a whole lot more proactive and productive than thoughts and prayers.
Ardern held a press conference and announced the sweeping new legislation. "On 15 March our history changed forever. Now our laws will too. We are announcing action today on behalf of all New Zealanders to strengthen our gun laws and make our country a safer place," she said. "Every semi-automatic weapon used in the terror attack on Friday will be banned."
She added that the law will hopefully go into effect by April 11th and legislation will be "drafted and introduced in urgency."
According to Stuff, there are 1.5 million firearms owned in New Zealand, 15,000 of which are semi-automatic rifles. The government will introduce a mandatory buy back scheme for assault rifles that have already been purchased – and they're taking the process very seriously.
"The first step is to encourage people to do it voluntarily," Police commissioner Mike Bush said, per The Guardian. "I'm sure that the majority of people will do so. We will then be working with people to ascertain if they haven't complied and once that period of grace or amnesty goes those people can, and in all likelihood will be prosecuted."
The government will also look closely at some of their other gun laws including tightening firearms licensing, putting greater restrictions on ammunition, and updating the Arms Act, which is New Zealand's legislation on gun registration.
Many took to Twitter to applaud Ardern's swift action and questioned why the American government hasn't imposed stricter gun laws after countless similar massacres.
Virginia Senate candidate Qasim Rashid, Esq. pointed out the fact that not only does the U.S. do absolutely nothing in the wake of our frequent mass shootings, New Zealand is changing laws and paying for victims' funerals, providing income for those injured in the attack, and Ardern is making a point of wearing a head scarf in solidarity with those targeted in the terror attack.
They wasted absolutely no time in doing the right thing — as compared to America, a country that has yet to take real action despite losing hundreds of lives to mass shootings every single year.
Want to feel a little sliver of hope in mankind? Since Ardern's announcement, thirty-seven firearms have already been voluntarily surrendered by New Zealanders, according to Buzzfeed News. One of the owners was John Hart, a farmer and Green Party member, who took to Twitter to share that he had given his weapon away for destruction.
"Until today I was one of the New Zealanders who owned a semi-automatic rifle. On the farm they are a useful tool in some circumstances, but my convenience doesn't outweigh the risk of misuse," he wrote. "We don't need these in our country. We have make sure it's #NeverAgain."