How Much Does Assisted Living Cost? Get The Bottom Line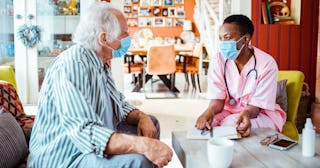 Marko Geber/Getty Images
For many people, caring for — or arranging care for — older parents goes from being a hypothetical situation you might have to deal with one day down the line to something that requires you to make some pretty major decisions. At first, it can be minor steps towards helping your parents retain their independence in their own home. But at a certain point, that may no longer work, and you have to consider a different arrangement. One option is having home care aides, which will allow them to stay in their own homes. However, that can prove quite costly. Someone might bring up the possibility of having one or both parents move in with you, but that's an entirely different situation (and one which can quickly lead to compassion fatigue). That leaves some form of assisted living facility or retirement community. And if you're at that point or close to it, you're probably pondering assisted living cost.
While both have their pros and cons, there's no denying the decision is based heavily on cost for many families. Here's what to know about the cost of assisted living, including who pays for it and how to use an assisted living calculator.
What is assisted living?
The term "assisted living" is used to refer to a wide range of senior living options with many different levels of care available, so before we go any further, let's break those down.
Independent Living Facility
An "independent living facility" is a block of shared housing (like an apartment building, condos, townhomes, studio apartments with common areas) where active older adults capable of taking care of themselves live together in a designated community. You may also hear it referred to as an active adult community, senior apartments, a retirement community, a 55+ community, or a retirement home. Residents can opt-in to amenities like a meal service or certain activities, but independent living facilities don't have full-time staff dedicated to providing medical care or custodial services.
Assisted Living Facility
This is a long-term residential care option designed for older adults who need some assistance with performing daily activities. What sort of activities? Well, it could range from laundry service to transportation to housekeeping. While there are staff members available around the clock, assisted living facilities cater more to people who may need some day-to-day support but don't have serious health issues that require continuous care. There are also facilities designed for people with Alzheimer's or dementia, known as memory care facilities.
Nursing Home
A nursing home — also known as a "skilled nursing facility" or "convalescent home" — provides preventive, therapeutic, and/or rehabilitative nursing care on either a short- or long-term basis. They usually have a regular schedule of activities for residents and also offer 24-hour care from nurses.
How much does assisted living cost?
That is a difficult question to answer since there are so many variables, including a facility's location, level of care provided, and other amenities. If you're unsure where to start, try using an assisted living cost calculator, like the ones available from the AARP, Enlivant, and A Place for Mom.
It's important to remember that these calculators only provide a (very) rough estimate of what the cost of assisted living might be for someone. The figure is based on the city and state where the person lives (or wants to live), the amount and type of care they need, the length of time they'll need care, and also preferences for having a private or semi-private room. Again, these are ballpark figures, but at least they give you a general idea of how much money will be required to keep up with their expenses.
So what's the average cost of assisted living? A Place for Mom — a service that connects families with different senior living options — lists the following average monthly costs:
Independent living: $1,500 — 3,500
Assisted living: $2,500 — 4,000
Memory care: $3,000 — 7,000
Nursing homes: $4,000 — 8,000
Who pays for assisted living?
This depends on an individual's and/or family's financial situation. Most families cover assisted living costs using private funds — usually a combination of accumulated lifetime savings, Social Security benefits, pension payments, and retirement accounts. But not everyone has access to that kind of money. In those cases, their children or other family members may be responsible for the costs. Finally, there are some governmental programs (on the federal, state, and local/county levels) that may offer some financial assistance. You'll need to investigate on your loved one's behalf to see if they qualify for any services or other types of care.
What does Medicare cover for assisted living?
Unfortunately, Medicare doesn't pay for assisted living. Although it covers most health-related costs like inpatient hospital care, hospice care, and home health care, it doesn't pay for room and board in an assisted living facility. Sometimes personal care is included in Medicare plans, but it isn't common.
What are 2021 assisted living costs and pricing by state?
Looking for an assisted living facility for Mom? Well, if you're on a budget, the first thing you should do is check your state's average annual cost. Use this chart to examine your options and plan ahead.
State Annual Cost Alabama $34,800 Alaska $69,000 Arizona $42,000 Arkansas $37,590 California $48,000 Colorado $48,750 Connecticut $59,400 Delaware $64,416 District of Columbia $80,400 Florida $36,540 Georgia $34,200 Hawaii $49,500 Idaho $38,400 Illinois $46,770 Indiana $42,330 Iowa $42,210 Kansa $46,350 Kentucky $39,600 Louisiana $37,860 Maine $59,892 Maryland $45,000 Massachusetts $65,550 Michigan $42,750 Minnesota $38,400 Mississippi $38,400 Missouri $30,438 Montana $42,150 Nebraska $42,120 Nevada $36,600 New Hampshire $43,200 New Jersey $59,400 New Mexico $43,200 New York $49,635 North Carolina $36,000 North Dakota $40,080 Ohio $43,200 Oklahoma $33,630 Oregon $48,780 Pennsylvania $43,200 Rhode Island $59,161 South Carolina $36,000 South Dakota $40,440 Tennessee $45,360 Texas $42,180 Utah $35,400 Vermont $58,320 Virginia $47,400 Washington $54,000 West Virginia $39,150 Wisconsin $47,205 Wyoming $47,940
Can married couples live in assisted living?
If a couple wants to live together in an assisted living community, most facilities can accommodate them. Although there are typically more singles living in these types of homes, many make it work. If one spouse needs more care than the other, there are trained nurses and care professionals available to provide support. That way, less pressure is on the partner and they're able to be cared for as well.
What type of care is offered in an assisted living facility?
It's important older adults have everything they need in an assisted living facility. Although these centers offer a bit more flexibility and independence than nursing homes, they still provide essential support and services like:
Meals three times a day
Help with medication, dressing, and bathing
Housekeeping
Laundry
24-hour emergency care
Medical services
Help scheduling appointments with doctors
This article was originally published on