We Ate Lunch At The Cemetery Today
by Caila Smith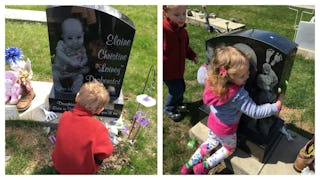 Caila Smith
Trigger warning: child loss
My family ate lunch at a cemetery today.
That sounds weird, right?
Well, it's a weird feeling when you really want your family to be whole for a meal, and it's not a possibility.
My four-month-old daughter has been laid to rest in this very place for a year and a half. Her second birthday is coming up, and the weight of her loss has been incredibly heavy on me. Today, I just needed to feel her near.
I loaded up the toddlers along with a couple of blankets and made a quick stop by our local Hardee's. (I'm not about to cook and have it get cold, or maybe that's just what I tell myself.)
Normally when we pull up, my children don't say anything — but not this time. The car hadn't fully stopped yet when my daughter squealed, "Look, Mommy! That's Lainey-Loo."
My heart melted into a puddle. "You're right, baby. It is Lainey."
Our visit today might not have looked how you'd expect. We laughed and played, and we laughed while we played. Cartwheels were practiced, and stories were reminisced. My little ones grinned from ear to ear, and our family grieved in our own way today.
So maybe it feels unnatural to you that we ate lunch by some headstones, but it's more unnatural to me that I had to bury my child.
However strange the scenery may look to you — to us, it was just right. The sun peeked out for the first time in days, and the wind chimes sang a glorious tune from dancing with the breeze.
Today, we felt a little happiness in our lives.
So I'll take my joy in whatever "unnatural" form it presents itself, because our family has had too many bad days to not take advantage of the good ones.
This article was originally published on