Are Non-Attendance Gifts Going To Be The New Trend In Baby Showers? Hopefully Not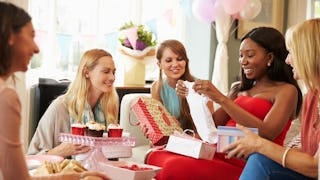 MONKEYIMAGESBUSINESS/GETTY IMAGES
An invitation for a friend's baby shower finally comes in the mail, and it might make you break into a sweat of guilt. Why? Maybe money is tight, maybe your schedule is already jam packed, or maybe you just hate parties. Whatever your reasoning may be, the good news is — it's just an invite. Thankfully, some unspoken law doesn't bind us to oblige.
But since everyone feels the need to express their own opinions online, some people think you should buy something for the expecting mother even if the guest cannot attend the baby shower.
Let's just say, we are not having any of it.
These expectations got some attention when Kenya Moore, The Real Housewives of Atlanta star, hinted around at guests' lack of enthusiasm when responding to her baby shower invitations. In an Instagram post she said, "RSVP literally means RESPOND PLEASE in French so if you get an invitation respond with a yes or no if you will be attending."
Dang, girl… call them out by name, why don't ya? We thought bees were rumored to flaunt toward honey. But apparently, Moore's testing out the vinegar method right now.
It's also fair to say that many expectant moms fear having a baby shower with too many guests and not enough food or drinks. So yes, she's right — RSVP's are a must. We will give her this one. But what is absurd is to say that you are obligated to send a gift whether or not you can attend.
But Moore dared to go there in yet another Instagram post. She says, "#Etiquette101 if you cannot attend a monumental life changing event in a friend's life, it's nice to send a gift anyway. (Weddings, graduations, baby showers) Or it's about class? It's NOT about a dollar amount it's to show you care the same way the person cared to invite you to share a moment in their life."
Newsflash, Moore: Not everyone (or even close to everyone) is living some luxurious, reality show of a life. For those receiving untimely bills along with untimely invitations, these well-mannered expectations may not be plausible. Because the truth is, millions of people work 40+ hours a week, and they are still living paycheck to paycheck.
No, the price of a gift does not matter in any circumstance — it is always the thought that counts. But expecting a gift just because you put someone's name on an invitation list is narcissistic and greedy, to say the least.
Because there truly are people in this world who cannot afford something special for every invitation that they receive. So with that in mind, what can they do which will honor them with some level of superseding "class?"
Make something crafty? Sure, that works for the Pinterest Pamelas out there. But what about for those of us who nearly flunked out of arts and crafts class in high school?
Perhaps we could offer our free time and complete some new mommy-hood chores for the new mom? Perfect! That is, for those of us who don't have a million children hanging from our tits and limbs. But for those who do, this isn't always the most practical solution.
Point being, not everyone can drop their life to celebrate your special moment in a way that you approve of. It's sad, but it's the way the world works. But don't lash out publicly at their absence, because you may never know just how badly she wanted to come but for whatever reason, she couldn't make it work.
So make sure you cherish the ones who do show up. Stop worrying about the gifts you didn't get and be thankful for the ones that you did.
SaveSave
This article was originally published on