Attorneys General Sue Trump Administration For Weakening School Lunch Standards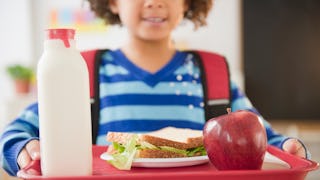 Image via JGI/Jamie Grill/Getty Images
The Trump administration has rolled back school lunch standards set by Obama — and some state AGs aren't having it
A group of state attorneys general is suing the Trump administration for policies set forth that make school lunches less nutritious.
Attorneys general from California, the District of Columbia, Illinois, Minnesota, New Mexico and Vermont have come together to bring a lawsuit for what the Trump administration has done to weaken federal nutrition standards for school lunches that feed over 30 million kids. Leading the charge is New York Attorney General Letitia James. In a statement, she said "Over a million children in New York – especially those in low-income communities and communities of color – depend on the meals served daily by their schools to be healthy, nutritious, and prepare them for learning."
James and the other state AGs are coming for the current leadership over their rollbacks of standards set during the Obama administration that were meant to make school lunches healthier. "The Trump Administration has undermined key health benefits for our children – standards for salt and whole grains in school meals – with deliberate disregard for science, expert opinion, and the law. My office will use every tool at our disposal to fight back against these shameful rollbacks and ensure our children are protected," she said.
The Obama era standards focused on serving nutritious and fiber-dense whole grains while the Trump administration has made moves to allow schools to serve more white breads and white pastas, which have less nutrients. They're also undermining efforts to reduce the amount of sodium allowed in school meals.
Thankfully, in addition to actions taken by state AGs, public health advocates are also speaking out against the move. According to NPR, Laura MacCleery, policy director at the Center for Science in the Public Interest, said, "The 'flexibilities' the administration is offering [schools] are both unnecessary and undermining." Her group is filing a lawsuit in federal court in Maryland arguing that the USDA is in violation of the School Lunch Act after enacting the weakened standards, in effect, risking the health of millions of kids by giving them less nutritious food. "When I think about what policies are available to move the needle on the health of kids, this is the big one," MacCleery says. "The Trump administration is blowing it."
The School Nutrition Association, however, has supported changes made by the Trump administration with the 58,000-member strong group arguing that kids aren't eating the healthier foods. SNA President Gay Anderson said, "SNA appreciates USDA's efforts to preserve strong standards to benefit students while addressing long-standing challenges to ensure they choose and consume healthy school meals."
But advocates for kids in need say otherwise. Chef Greg Silverman, MSc, Executive Director, West Side Campaign Against Hunger, says, "At the West Side Campaign Against Hunger we know very well that many of our community of 22,000 food insecure New Yorkers depend on healthy, nutritious, flavorful school meals to help their children learn and thrive. Rolling back nutritional standards is an ultra processed recipe for decreasing educational outcomes, increasing food insecurity and elevating obesity levels for the next generation and its simply unacceptable. We thank Attorney General James for her leadership to protect our children."