Horrifying Audio Reveals Border Patrol Agents Joking As Migrant Kids Cry 
by Valerie Williams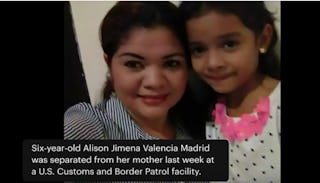 Image via ProPublica
Secret audio captures Border Patrol agents mocking crying migrant children asking for their parents
As the months of Donald Trump's first years in office tick by, it's become increasingly clear that however inhumane and horrible anyone thought his administration would be, it's worse than we could've imagined. In the wake of countless stories of migrant kids being separated from their parents and sent to live in tents or cages, audio has emerged of Border Patrol agents mocking migrant kids as they sob for their parents.
The audio was captured secretly and given to ProPublica. It's an extremely difficult seven minutes to listen to and includes the scared voices of 10 Central American children separated from their parents last week at the border.
My soul is shattered. There are simply no words to capture this feeling.
As the children cry out for their parents, a Border Patrol agent can be heard saying, "Well, we have an orchestra here. What's missing is a conductor."
A six-year-old Salvadoran girl begs to see her aunt. "At least I can go with my aunt? I want her to come…I want my aunt to come so she can take me to her house." An agent tells the child that someone will help locate the aunt and call her. The little one even offers her aunt's phone number, pleading to speak with her. That segment is immediately followed by a boy's plaintive wails for his "papa." Over and over. Then, the child looking for her aunt asks again. "Are you going to call my aunt so that when I'm done eating, she can pick me up?" She again insists she has her phone number memorized.
The voices were captured by a client of Jennifer Harbury, a civil rights attorney who has worked by the Texas border for years. The client wishes to remain anonymous for fear of retaliation, but Harbury provided the sound to ProPublica. The person estimates the 10 kids in the recording to be between ages 4-10. It had been under 24 hours since they were separated from their parents so their distress was very recent. ProPublica contacted the aunt whose number the girl repeated in the audio. She tells them, "It was the hardest moment in my life. Imagine getting a call from your six-year-old niece. She's crying and begging me to go get her. She says, 'I promise I'll behave, but please get me out of here. I'm all alone.'"
The aunt is in America after escaping gang violence in El Salvador, the exact reason her sister and niece are trying to cross the border. "I know she's not an American citizen," the aunt says of her niece, whose name is Alison Jimena Valencia Madrid. "But she's a human being. She's a child. How can they treat her this way?"
The footage is capturing just 10 tiny voices of the more than 2,300 kids that have been taken from their parents since the implementation of Trump's "zero tolerance" immigration policy which demands prosecution for those illegally crossing the border — and separation from any kids they brought with them. Over 100 of the kids taken from their parents so far are under the age of four.
This is America now. Little kids who are barely old enough to attend kindergarten being shuffled around and dismissed as they beg for their parents and aunts. Listening to their cries is the literal bare minimum we can do. I sobbed the whole way to work I can't tell you how many times after leaving my toddler son crying out for me at daycare. At daycare where he was safe, fed, warm, played with, cared for, cleaned up when he spilled something, taught little games and the alphabet. I cried because hearing him scream for Momma on my way out the door stabbed me right in the heart, even though I knew he was safe and that we would be reunited just hours later. It still hurt because that's my child and he needed me.
Now listen to these sweet babies begging for their moms and dads as they're brushed off and dismissed. As a border agent literally mocks them and the noise caused by their plaintive cries. They're in a foreign place where they don't know anyone and all they want is to see their parents. This is America, eh? I am fucking repulsed. And heartbroken. We all should be. If you're a parent, this should shatter you. Hell, if you have a soul this should shatter you. We're in a very dark place right now as a nation and we can do so much better.
We need to do so much better.
This article was originally published on