Auli'i Cravalho Says It's 'Absolutely Appropriate' To Dress Up As Moana For Halloween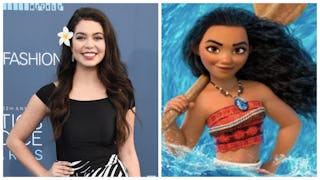 Image via Getty/Frazer Harrison/Walt Disney Pictures/IMDB
If your kids love Moana, just let them wear the damn costume for Halloween
Ever since Disney's Moana came out two years ago, there seems to be an ever-present debate on whether it's politically correct or culturally sensitive to let kids dress up as Moana for Halloween.
Enter Auli'l Cravalho, the actress who voices Moana — who says it's "absolutely appropriate."
Retailers like Target, Party City, Disney, and Amazon all sell Moana costumes — and for good reason: the 2016 film is still hugely popular among kids and families. Because it's awesome. Instead of the typical Disney Princess formula where downtrodden girl meets emo prince looking for a manic pixie princess, at the heart of Moana you won't find a romantic love story. It's about a girl who is determined to find her destiny and become the hero of her own story — for herself, her family, and her community.
Also? The soundtrack is a banger. (Lin-Manuel Miranda is a national treasure.)
OF COURSE young girls want to "be" her for Halloween. Moana is brave, smart, strong, funny, and beautiful. But the Halloween costume controversy is still a hot-button issue for parents and kids.
Who better to weigh in than Auli'l Cravalho, aka Moana herself. "I think it's absolutely appropriate," Cravalho, 17, tells PEOPLE. "It's done in the spirit of love and for Disney and for the little ones who just want to dress up as their favorite heroine, I'm all for it."
YES. THIS. Here's the difference between little girls dressing up as their favorite Disney princess for Halloween versus, oh, say, Luann from Real Housewives dressing up as Diana Ross (NBC, if you're reading this, I have a degree in broadcast journalism and would *love* to take over the third hour of the Today Show): no little girl is dressing up as Moana with the intent of drawing ire, or turning a beloved character into an offensive caricature.
They're dressing up as Moana because they love her. They admire her. They want to be just like her. And when it comes to these costumes for children, isn't mainstream representation a good thing? Shouldn't children who aren't white be able to see their peers loving Disney princesses and comic book characters and other heroes who also aren't white?
It's a sign of progression that, as a whole, we're taking pause before sending our kids out the door in costumes that celebrate other cultures. That we're now willing to think about this as an abstract social issue is a vast improvement over generations past. But please, if your kids love Moana, just let them wear the damn costume.
Cravalho was born in Kohala, Hawaii, and is of Native Hawaiian, Puerto Rican, Irish, Portuguese, and Chinese descent. She's also a pretty solid authority on the subject.
"I would encourage anyone who wants to dress up as a Wayfinder who journeys beyond her reef to figure out who she truly is, I totally support you. Go for it!" she says. "Parents can dress up as Moana, too."
This article was originally published on