Being An Aunt Is Truly One Of My Greatest Joys
by Colleen Dilthey Thomas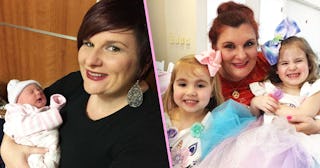 Courtesy of Colleen Thomas
My brothers are my best friends. The four of us grew up extremely close. We are six years apart, top to bottom, and we have all had children in close succession. And while being a mother is my number one priority, being an aunt to their children is a unique gift that I never knew that I was missing until my first nephew came along.
We were celebrating my second son's first birthday when my sister-in-law went into labor. She didn't realize it at first, being her first child, but we all received a surprise text that their son had been born. He is the third generation boy carrying the same moniker as my father. He was special from the second he was born. I went to visit them in the hospital that morning and the second that I opened the door, I was so overcome with emotion that I immediately burst into tears. Looking at my brother holding his son made my heart smile. The second that he was placed in my arms, I loved him. I knew that he would forever hold a place in my heart and that he and my boys would grow up to be the best of friends.
Collectively, my brothers have four sons and two daughters. They were all born in a span of nine years, with two of my four children freckled in the middle. Our kids are extremely close, several of them attending the same school. It has been important to my brothers and me that our kids grow up as friends, just the way that we are. They have play dates and slumber parties and spend time just bumming around the way that kids do. And it gives me the opportunity to be someone different than my own kids' mother.
My nieces and nephews love to come to my house. They like it because it almost always looks like a tornado blew through with toys and sundry items everywhere, so they never feel like they have to be on their best behavior. And that's fine with me. I want them to play and have a good time, not worry about party manners or any of the other demands that I put on my own children when they go to someone's house. A please and a thank you is a bonus, but it isn't required. I know that they appreciate me and that's enough. We have a giant pantry and that is always the first stop. Aunt Coll's house is filled with kid-friendly snacks that are easy to grab and go. There are always Capri Suns and root beer and they can help themselves. I'm not quite sure what the rules are at their houses, but at my place, it's all fair game.
One of my nieces likes wearing her pajamas to my house if she comes over any time after 3pm. She is more comfortable that way and insists that I prefer her to be in pajamas. If I know she is coming, I'll put mine on too. Who wants to wear a bra anyway? Toss me a long lamb nightgown and some Ugg slippers and I am good to go. The beauty of being an aunt is, you don't have to abide by social norms. If everybody wants to run to Target and you don't feel like getting dressed, Aunt Coll won't make you. We just have to keep this tight lipped around your mother, who would be mortified that I took you out in a JoJo Siwa gown and called it a dress.
My nieces and nephews love my minivan. It also falls under the category of post-tropical storm damage, so it's fine to eat your fruit snacks in the back and toss the wrappers on the floor. I'll just pick them up later. We also like to listen to music really loud with the sunroof open and all of the windows down. Sometimes I play rap music with dirty words in it. We just laugh and keep that between us. Their parents know that Aunt Coll likes that kind of music, so they really shouldn't be surprised that I am sharing Nelly with their children. It's fine, they're going to learn it anyway, might as well be from me.
If you get picked up with your cousins from school, you may be lucky enough to head out for ice cream, just because. If you're with your mom and dad, you get a cone and that's it. Aunt Coll will get you a burger, fries, soda, ice cream and a second order of fries when you're still hungry. I'll tease you and ask if you have any money and when you say no, I'll threaten to leave you behind to wash dishes. When I tell you to get in the car in the parking lot and you don't listen and start running in front of the car to be funny, I will also honk the horn when you're directly in front of the hood and scare the shit out of you and just laugh.
Aunt Coll loves to go on adventures and will take you to the zoo, or the nail salon, or just to IKEA for breakfast. It is always more exciting to go out if a cousin can come along. It's fun for my kids, since their cousins are all really close in age. The girls are especially lucky; all three of them were born in the span of less than a year. They play dolls together and like to paint their nails. They wear matching swimsuits and goggles at the pool. Aunt Coll loves to spoil them with matching bows for the super cute ponies.
When it is time for your birthday, I will do my best to find the perfect gift. From cool toys to giant yard signs, Aunt Coll wants your day to be memorable and fun. I want them to know how special they are to me and that I love them beyond measure. Sometimes I may go overboard, but you are only a kid once, and you deserve it.
My brothers are so important to me. I cannot imagine my life without them and their children in it regularly. Being an aunt is one of my greatest pleasures. I am able to be my best self for someone other than my own kids. They expect me to take care of them and to love them, but for my nieces and nephews, I am just a bonus. My kids are equally as lucky to have such great aunts and uncles who love them unconditionally.
As a parent, you have to set boundaries and make rules. Aunts don't have to do that. Sure, you have to keep them safe and from making bad choices, but other than that, aunts are there to be fun. And I try my hardest to make things fun for them. I want my nieces and nephews to look back at their childhood and think that it was better because I was in it. I want them to know that I genuinely care about them and I am fostering their friendships with my kids. And no matter what their parents say, they can drink soda all night and have as much candy as they want when they are with me. They might even be able to sneak in an R-rated movie. Aunt Coll never saw a thing…
This article was originally published on