Beloved Austin Pediatrician Dies In Apparent Murder-Suicide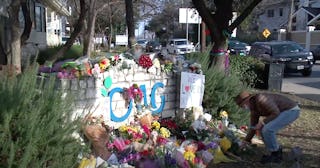 KXAN/Youtube
Dr. Katherine Lindley Dodson was held hostage and killed by another pediatrician as part of a murder-suicide
Dr. Katherine Lindley Dodson devoted her life to helping children as a pediatrician in Austin, Texas. After a hostage situation on Tuesday at her place of work, Children's Medical Group, the mother of three was murdered at the hands of a male pediatrician battling a terminal illness who had recently come into the office looking for a volunteer job.
According to the Austin Police Department, they responded to a 911 call from an individual who reported that a male subject had entered into the doctor's office where they worked, had a gun, and was holding hostages inside of the business. Over the course of the incident, some escaped while others were allowed to leave. However, Dr. Dodson was not one of them.
After conducting interviews on the scene, police officers determined that the suspect was Dr. Bharat Narumanchi, a pediatrician recently diagnosed with stage 4 metastatic cancer with three to four months to live, who had been to the same office just one week before to apply for a job.
Hostages reported that Narumanchi arrived at the office on Tuesday armed with a pistol, a shotgun, and two duffel bags. One witness, Victoria Ishaak, who was working in the office when Narumanchi showed up, told The Austin Statesman that the shooter wasn't interested in anyone who wasn't a doctor. "They were released because they were not a doctor," Ishaak said. "This guy did not want anything to do with someone who was not a doctor." After hostage negotiators attempted to make contact with Dr. Narumanchi to no avail, Austin Police SWAT officers entered the building and found both Dr. Dodson and Dr. Narumanchi deceased inside the building from apparent gunshot wounds. Austin PD says it appears Narumanchi shot himself after shooting Dr. Dodson.
According to a statement released by the family to The Austin Statesman, Dobson had "the unique ability to make you feel like the only person in the room. She brightened our lives and lifted us up with her laughter, which was like magic. We are all better because of her," it read.
"We are beyond devastated at the tragic, sudden and senseless loss of our beloved Lindley. As a dedicated mom, wife, daughter, friend and pediatrician, she radiated light, love and joy in everything she did and with everyone she touched."
"She just always had a smile on her face," Karen Vladeck, whose two children, ages 2 and 5, were patients of Dodson's, told the paper. "She made you feel like you were the only parent there, even though there was a line of kids waiting."
An investigation surrounding the incident is ongoing, specifically, what inspired the tragedy. However, according to reports, Narumanchi had an alleged "history of violent or erratic behavior" that included domestic abuse charges and a contentious child custody battle with his former wife.
This article was originally published on