Creepy Australian Real Estate Listing Is The Stuff Of Actual Nightmares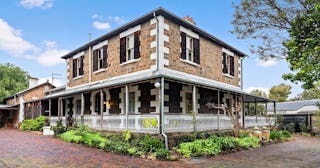 Realstate.com.au
This may be the creepiest real estate listing, ever
If you've ever thought to yourself, "I'd fancy living in The Haunting of Hill House meets the hotel from Psycho," have we got the perfect place for you. There's a house in Australia that seems sweet enough on the outside, but peel back the layers and it's really something you need to see with your own eyeballs to believe.
There's a new listing on Melory Crescent in South Australia that has people busting out their sage and burning it all over the damn place. The five-bedroom, two-bathroom abode recently went on the market and it seems the former owners loved collecting figurines and dolls, Manchester United soccer, and, um, murdering people.
The listing boasts of dual cellars, a rooftop viewing platform, ten rooms, and a chapel, all "wrapped around by the return veranda fitted with lacework balustrade on three sides." How sweet. If you look at it from the outside, you may be thinking to yourself "it's nice and inviting. A perfect place to raise the kids."
But — and we cannot stress this enough — you would be wrong. It's hard to decide as you scroll through the first set pictures if a new coat of paint or some new furniture would spruce the place up a bit. And I'm sure they'll take all the creepy figurines with them, so that'll help. Right?
But keep scrolling and it will become painfully clear that the only way you're taking ownership of this house is after a spiritual cleansing and a good amount of whiskey. "Mystery and intrigue, beats anything you will ever see, it's at every turn. History, excitement. Challenge your senses," the listing continues.
Then, a solid piece of advice: "If you are a scaredy cat, don't come." Mother. Of. God.
WHY. What in the Blair Witch Project is happening under that terrible paneled ceiling?
For the love of Britney Spears, what in the actual fuck took place in these rooms? This is either two rooms dedicated to storing Halloween decor or someone's making a skin-suit. Maybe bring an old priest and a young priest to the closing table.
According to the listing, the mansion was built by William Uren in the 1800's who "chose this foothills location for its fertile soil and beautiful creek setting. A viewing deck atop the second story of the home allowed William to see the ships arriving at Port Adelaide" where he could watch out for his leather goods he was importing. So, skin-suit it is. Cool Alice Cooper picture, though.
Here's one of the rooms you could cozy up in. Just lie your head on the "Creepy Demons" pillow and fall asleep never.
We are not alone in our pant-crapping. People are downright terrified of this place.
If you need a little lighthearted moment to bring your goosebumps down to a reasonable size, the agent's note on the property reads: "Brave people only, leave the kids at home or keep them supervised. Watch the steps." Also, watch out for the cobwebs and "don't wear a suit." Bless.