Firefighters Posing With Cats Is Your New Favorite Thing
by Jerriann Sullivan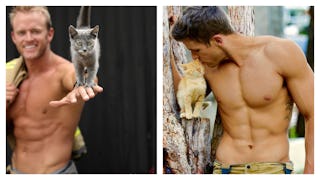 Image via Australian Firefighters Calendar
Australian firefighters pose annually to raise money for charity
Pop quiz — what are the two best things in the world? If you said suuuuper hot Australian firefighters and precious little kitties, you'd be correct. Luckily for us, the two have been combined in a photo calendar you'll want to leave on the wall much longer than a year.
As promised, the calendar has everything you need: unbelievably gorgeous dudes snuggling adorable felines. Oh, and a place to jot down life events, which is technically the primary purpose of a calendar, but whatever. Nothing else will matter once you get ahold of this.
Whoa. Sorry, I just passed out for a second. I'm back. Mostly.
The guys have seriously outdone themselves — and so have the cute kitties, whose brethren are actually some of the recipients of the funds raised by this year-long celebration of muscly firefighters and their furry friends. "Nationally we donate funds to Mates4Mates, Australia Zoo Wildlife Warriors, Precious Paws Animal Rescue, Safe Haven Animal Rescue, Save a Horse, Healing Hooves, and AMS Cat Haven," they shared on Facebook.
OK, back to sexy, brave men who run into burning buildings and tiny creatures held delicately in their hunky hands.
Or baskets. Sorry, are there cats in these photos? We're kind of distracted.
All told, the hunky heroes have donated nearly $3 million dollars since they started making the calendars back in 1993. But thanks to their newfound viral fame, the firefighters have raised $1.7 million in the last four years. With pictures this steamy, we expect 2019 to be a record sales year.
Last year, the calendar's proceeds went to several other great causes in addition to charities that support animals. The Children's Hospital Foundation in Queensland, The Starlight Foundation in New South Wales, My Room Children's Cancer Charity in Victoria, The Cancer Council in South Australia and The Salvation Army were all beneficiaries of the 2018 editions.
Yes, editions, plural. Not only is there a calendar full of smokin' hot men (smokin'…firefighters..see what I did there?) and a bunch of pretty kitties, there are also versions featuring dogs, a variety of animals, or just plain ol' hot guys, if you feel they deserve all of your drooling and attention. Which is completely valid, TBH.
Phew! Anyone else ready to move to Australia, buy a house, and then set that house on fire? Just us? Alrighty then.
After four tough weeks of snapping photos and editing them, the calendars are ready for purchase, so now you know what to buy all the cat, dog, animal, and jaw-droppingly attractive man-loving people on your holiday gift list.