Author Shuts Down Question About Balancing Work And Motherhood Like A True Badass
by Cassandra Stone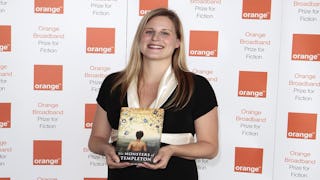 Image via Carl Court/PA Images/Getty Images
This is how every working mom should answer this question from now on
The notion that women are somehow singularly responsible for determining whether an adult human really can "have it all" in terms of career and family is insultingly anti-feminist. But that surely doesn't stop working moms from being asked about their work/life balance all the time, does it? Luckily, author Lauren Groff delivered the perfect response to that question during an interview.
Groff, a fiction writer and author of several novels, was recently interviewed by the Harvard Gazette about her work and current Radcliffe fellowship. Groff is also the mother of two children, which means she was absolutely asked how she balances motherhood and her writing. Sigh forever. What's amazing is how Groff took that question, trampled on it, lit it on fire, and blew it up into smithereens with the absolute perfect answer ever.
Enjoy.
Interviewer: You are a mother of two. In 10 years you have produced three novels and two short-story collections. Can you talk about your process and how you manage work and family?
Groff: I understand that this is a question of vital importance to many people, particularly to other mothers who are artists trying to get their work done, and know that I feel for everyone in the struggle. But until I see a male writer asked this question, I'm going to respectfully decline to answer it.
"Until I see a male writer asked this question, I'm going to respectfully decline to answer it." PUT THAT ON MY MOTHERFUCKING TOMBSTONE, Y'ALL. Her answer is the only feminist response to the inevitable, dread-worthy, work/life balance question that we're constantly at the mercy of as working mothers.
Plenty of people agree this is not only noteworthy, but it's the only way to get people to stop placing the burden of "balancing" a career and being a parent squarely on the shoulders of already overly-burdened mothers.
As a work-from-home mother with a toddler who is home with me all day, every day, I am constantly asked how I "do it." While I get where most people are coming from — completing any task with a toddler screaming at your knees can feel herculean, let alone a job my family depends on financially — it's exhausting. My husband has never once been asked how he manages to have a career and be a dad at the same time. Even the mental image of someone daring to ask him about his work/life balance spurns a bubble of maniacal laughter in my gut because it just won't ever happen.
So maybe the next time any of us are asked how we "do it," we can take a note from Lauren Groff and tell them to ask a man first.