Teacher Gives Child With Autism 'Most Annoying' Award
by Christina Marfice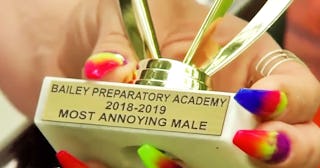 RTV6 The Indy Channel/Youtube
The special education teacher apparently has no understanding of or empathy for students with autism
Yes, you read that headline correctly. A fifth grade special education teacher in Gary, Indiana held an awards ceremony for their students to celebrate the end of the school year. At that ceremony, in front of all the students and their parents, they presented a child with autism with the award for being the "Most Annoying Male."
If you're shaking your head and wondering WTF right now, you are not alone.
11-year-old Achilles has autism and is nonverbal, his parents told news reporters after the award was given out. Rather than speak, he's likely to rock back and forth, and he gets emotional easily, they said. But they obviously never expected a special education teacher to find that sort of behavior, which is actually fairly common for kids with autism, to be "annoying." It's vile, to be honest, that this person is allowed to teach these special, vulnerable kids.
The school district said in a statement that "an apology was extended on behalf of the district to the family and disciplinary action was taken against personnel involved."
But administrators have refused to reveal to reporters whether the teacher is still employed by the school district. The only reasonable action here seems like it would be to let the teacher go, because there is absolutely no excuse to treat any kid this way, let alone one who can't help his behavior sometimes.
"We were blindsided. We just weren't expecting it," Achilles' dad, Rick Castejon, told news outlets. "As a principal or teacher, you should never let this happen to any student."
Castejon was at the awards luncheon and saw the award being given out. He said afterward, he tried to just leave the trophy, which is literally engraved with "Most Annoying Male," on the table, but the teacher chased him and his son down to remind them to take it home with them.
The dad also said other students and parents fell silent when the award was announced, even though the teacher seemed to treat it all as an attempt at a joke. When Castejon got home and told his wife what had happened, he said the sick reality of the situation set in, and he decided to reach out to the school district and local news media.
Castejon said Achilles didn't understand what was going on and was "just excited to get a gold star," so we can at least be thankful for that. But that does not, in any way excuse what this teacher did, and we can only hope they're never in a position where they can hurt kids this way again.
Regardless, the Castejons already had plans to move to another city, so Achilles will not be returning to the same school next year. Here's hoping his shitty teacher won't either.